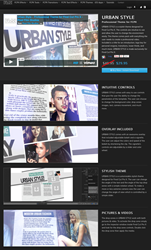 Our growing library of themes have given our users many choices and the Urban Style theme adds a professional style to that library
Aliso Viejo, California (PRWEB) December 03, 2014
Pixel Film Studios FCPX plugin and theme designers have announced the release of the Urban Style theme for Final Cut Pro X.
"Our growing library of themes have given our users many choices and the Urban Style theme adds a professional style to that library." Says Christian Austin, CEO of Pixel Film Studios. "Urban Style theme is a professional and clean style theme that our users will love."
Urban Style comes with easy to use controls that give the user the ability to change the parameters of the template. The user can choose to change the background color, drop zones images, text, camera movement, and much more.
Urban Style comes with an awesome overlay that included adjustable bokeh and a vignette. The user can adjust the colors and speed of the bokeh by shortening the clip. The vignette's controls are adjustable by a slider and color wheel.
Urban Style is a customizable stylish theme designed for Final Cut Pro X. The user can change the angle of the text and the angle of the top drop zones with a simple rotation wheel. To make a more or less extreme camera view, the user can change the angle of view which is controlled by a simple slider.
The drop zones in Urban Style work with both pictures & video. To activate the drop zone, simply go to the inspector window inside Final Cut Pro X and look for the drop zone controls. Double click the drop zone then apply the media.
Established in 2006, Aliso Viejo, California-based Pixel Film Studios is an innovative developer of visual effects tools for the post-production and broadcast community. Their products are integrated with popular non-linear editing and compositing products from Apple FCPX. All Apple, the Apple logo, Mac OS X, and Macintosh are registered trademarks of Apple Inc. in the U.S. and/or other countries. All other trademarks and trade names are the property of their respective owners.