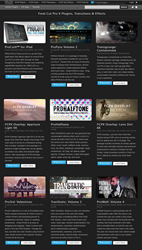 Our goal is to offer our users a wide variety quality themes and this diverse pack of quality themes adds to our growing library
Aliso Viejo, California (PRWEB) February 24, 2015
Pixel Film Studios, a leader of Final Cut Pro X plugins and theme templates, announced the release of Three New Final Cut Pro X Theme Templates.
"Our goal is to offer our users a wide variety quality themes and this diverse pack of quality themes adds to our growing library." Says Christian Austin, Pixel Film Studios CEO. "Each theme features intuitive controls our users will love."
Be Mine is a special holiday theme template featuring amazing on-screen controls, 48 dynamic camera presets, and a full 3D environment. Drop in personal media into the generator's drop zone to create a fun and romantic scene. Just choose a camera angle using the intuitive drop-down menu and use the Inspector window to adjust parameters within the scene. Users who don't want to use the camera presets can utilize 7 unique pre-made custom shots to cut down work even further. Be Mine is created exclusively for Final Cut Pro X.
Picture Show is a professional theme from Pixel Film Studios that includes a 3d environment with 48 camera presets and 5 already made custom camera shots for ease of use. Users can enhance their projects with depth of field, and motion blur for beautiful realism, or opt out for faster render times. Picture Show also contains 2 lower thirds, 4 flare transitions, an overlay and more. Create amazing 3d slideshows out of any photo album, or video collection using Picture Show today. Picture Show is made exclusively for Final Cut Pro X.
Thinking of You is an elegant holiday template meant for that special someone. Celebrate this Valentine's Day with Thinking of You's 48 graceful camera presets and 10 unique custom shots pre-made for the user. Thinking of You also includes titling screens, lower thirds and transitions to help any user craft the perfect Valentine's video. Thinking of You is made exclusively for FCPX.
Established in 2006, Aliso Viejo, California-based Pixel Film Studios is an innovative developer of visual effects tools for the post-production and broadcast community. Their products are integrated with popular non-linear editing and compositing products from Apple FCPX. All Apple, the Apple logo, Mac OS X, and Macintosh are registered trademarks of Apple Inc. in the U.S. and/or other countries. All other trademarks and trade names are the property of their respective owners.