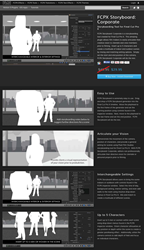 Storyboard Corporate allows users to take advantage of animated storyboards to build any corporate story with ease
Aliso Viejo, California (PRWEB) March 17, 2015
Designers and Professionals of FCPX plugins have announced a new tool entitled Storyboard Corporate from Pixel Film Studios.
"Storyboard Corporate allows users to take advantage of animated storyboards to build any corporate story with ease," said Christina Austin, CEO of Pixel Film Studios. "StoryBoard Corporate saves time and is an effective tool for any FCPX editor."
FCPX Storyboard Corporate is a storyboarding tool created for Final Cut Pro X. This amazing plugin allows filmmakers to easily articulate their creative vision to clientele and crew members prior to filming. Insert up to 5 characters and create a multitude of indoor and outdoor scenes by mixing and matching setting options. Simply set the start and end position of the camera, FCPX Storyboard: Corporate will do the rest.
FCPX Storyboard is extremely easy to use. Drag and drop a FCPX Storyboard generator into the Final Cut Pro X timeline. Move the playhead to the first frame of the generator and set the starting position using controls found in the inspector window. Next, move to the playhead to the last frame and set the end position. FCPX Storyboard will do the rest.
Demonstrate the movement of the camera, position of characters, and provide a general setting for scenes using Pixel Film Studios storyboarding tool for Final Cut Pro X. With FCPX Storyboard Corporate, editors can professionally articulate their directive vision for clientele or personal projects prior to filming.
FCPX Storyboard allows users to bring the scene indoors or outdoors with controls found in the FCPX inspector window. Select the time of day, background setting, interior setting, and even add walls to the room using intuitive drop-down menus in Final Cut Pro X. Mix and match to create a multitude of different scenes.
Insert up to 5 men or women within each scene using drop-down menus found in the FCPX inspector window. Orient character silhouettes at any position or depth within the scene to create a greater parallaxing effect. Additionally, utilize the camera controls to add depth of field and focus on individual characters.
Established in 2006, Aliso Viejo, California-based Pixel Film Studios is an innovative developer of visual effects tools for the post-production and broadcast community. Their products are integrated with popular non-linear editing and compositing products from Apple FCPX. All Apple, the Apple logo, Mac OS X, and Macintosh are registered trademarks of Apple Inc. in the U.S. and/or other countries. All other trademarks and trade names are the property of their respective owners.