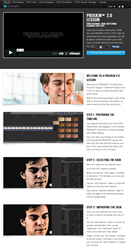 Our tutorials are thorough, entertaining to watch and educate our users
Aliso Viejo, California (PRWEB) May 15, 2014
Pixel Film Studios developer of visual effects tools for postproduction and broadcast markets, announced the availability of ProSkin 2.0. A walk through video tutorial to using this plugin inside Final Cut Pro X
"Our tutorials are thorough, entertaining to watch and educate our users" Says Christina Austin, CEO of Pixel Film Studios. "We're proud to offer this comprehensive walkthrough FCPX video for ProSkin 2.0"
Learn how to achieve that perfect model look with PROSKIN 2.0™ for FCPX. With 30 professional skin retouching plugins, users will be able to smooth and soften the actors' faces, no matter what skin tone they have.
WELCOME TO A PROSKIN 2.0 LESSON
Welcome to a PROSKIN™ 2.0 lesson from Pixel Film Studios™. PROSKIN™ allows Final Cut Pro X users to smooth and soften their actors' faces.
With 30 skin retouching plugins, users will be able to remove blemishes and wrinkles, no matter what skin tone their actors have.
STEP 1 - PREPARING THE TIMELINE
Let's begin by selecting a clip in the FCPX media library and dragging it to the timeline. PROSKIN™ works best on close-up footage with natural lighting.
Once the user have the footage in the timeline, scan through the PROSKIN™ presets and select the skin tone that best matches the actor. Then, drag and drop the filter on the clip in the Final Cut Pro X timeline.
STEP 2 - SELECTING THE SKIN
Now, let's adjust the skin selection area.
Go to the FCPX Inspector window.
Make sure that the "Skin Isolate" checkbox is checked on. This will allow users to see just the effected area.
Use the "Skin Selection" slider to control the tolerance of the skin tone selection.
Then use the "Selection Softness" slider to make the edges of the effected area blend into the footage better.
STEP 3 - IMPROVING THE SKIN
Once users have selected the actor's skin, it's time to improve the quality and color of it.
Use the "Skin Softness" slider to smooth out wrinkles and blemishes. Then use the "Brightness" and "Saturation" sliders to make the actor's skin more radiant.
Finally, uncheck the "Skin Isolate" checkbox to see the results. If the effect is too strong, users can lower the "Effect Opacity" to regain skin's texture.
ADDITIONAL INFORMATION
If users are working with extremely close-up footage and want to regain details in the facial features, the user can activate the "Advanced Masks."
Use the control points to draw shapes around the eyes, nose, and mouth. Then use the "Roundness" and "Feather" sliders to fine-tune these areas.
The PROSKIN™ softener effects will no longer affect these masked areas.
Established in 2006, Aliso Viejo, California-based Pixel Film Studios is an innovative developer of visual effects tools for the post-production and broadcast community. Their products are integrated with popular non-linear editing and compositing products from Apple FCPX. All Apple, the Apple logo, Mac OS X, and Macintosh are registered trademarks of Apple Inc. in the U.S. and/or other countries. All other trademarks and trade names are the property of their respective owners.