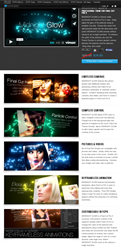 Midnight Glow delivers an exciting look that users will love.
(PRWEB) June 18, 2014
FCPX Developers from Pixel Film Studios have announced the release of a new theme template entitled Midnight Glow.
"Midnight Glow delivers an exciting look that users will love," said Christina Austin, CEO of Pixel Film Studios. "Midnight is a fun and energetic theme."
Midnight Glow is a theme made exclusively for Final Cut Pro X users. Easily adjust the glow of the particles using a simplistic hue dial. Choose the correct tint, add personal media into the drop zones, and watch Midnight Glow animate without having to set a single keyframe. To enhance the spark of the particles, lay a Theme Overlay to achieve greater contrast between the particles and the darkness. Drag, drop, and create.
Midnight Glow features 48 camera presets with additional rotation and positioning controls that make for an unlimited combination of unlimited camera options. Combine sweeping shots, booming cameras, slow sliders, and more to create a beautiful project in Final Cute Pro X.
Midnight Glow allows FCPX users to have complete control over the darkness. Change hue of the background light and particles to brighten up the scene. Place the "Theme Overlay" above Midnight Glow to add a deep vignette and increase the contrast of the scenes.
All of Pixel Film Studio drop zones are compatible with pictures and videos. Simply utilize the easy to use drop zones in the scene. Double click the drop zones to activate on-screen controls that allow scaling and positioning. Immerse images and video clips in particles.
Midnight Glow features keyframeless animations, allow Final Cut Pro X users to spend less time editing and more time enjoying their creations. Pixel Film Studios makes it easy for users to create wondrous projects without the annoyance of confusing keyframes.
Midnight Glow is a Final Cut Pro X exclusive. Find intuitive controls in the inspector window within Final Cut Pro X. Change the colors of the particles and background using a simple hue dial. Position and rotate the environment and utilize the 48 camera presets to achieve new camera angles. Adjust the angle of view for a more dynamic wide-angle view. Watch Midnight Glow come to life without a single keyframe.
Established in 2006, Aliso Viejo, California-based Pixel Film Studios is an innovative developer of visual effects tools for the post-production and broadcast community. Their products are integrated with popular non-linear editing and compositing products from Apple FCPX. All Apple, the Apple logo, Mac OS X, and Macintosh are registered trademarks of Apple Inc. in the U.S. and/or other countries. All other trademarks and trade names are the property of their respective owners.