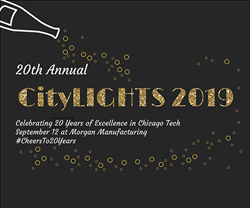 CHICAGO (PRWEB) August 02, 2019
Today the Illinois Technology Association (ITA) announced the 50 landmark industry leaders being recognized as finalists at The 20th Annual CityLIGHTS Awards. To commemorate the anniversary, the program is presenting a Toast of Chicago Tech award to celebrate winners from years past. The ITA CityLIGHTS Awards, with presenting sponsor Deloitte, is the premier annual event that celebrates and honors achievements from the local tech community.
The winners for each category, with the exception of the Toast of Chicago Tech, are determined by a compilation of the judges' scores and voting by the public. Voting is open Monday, August 5 through Friday, August 16 at itacitylights.com/finalists.
"This year's finalists are outstanding representatives for this banner moment in Chicago tech and two decades of CityLIGHTS Awards," said ITA CEO Julia Kanouse. "It's incredible to celebrate twenty years of the awards. The long history of the program demonstrates the maturity and vitality of our ecosystem as a whole and is a testament to the strength of the awards as an indicator to future success."
Congratulations to the 2019 finalists:
CityLIGHTS Industry Champion: Presented to the company or individual who actively and consistently supports the growth of the Illinois technology industry through leadership and/or collaboration.

Ethos Talent
Victor Ciardelli, CEO & Founder, Guaranteed Rate
John Higginson, CTO, Enova
Kelly Manthey, CEO, Solstice
Megan McCann, CEO & Founder, McCann Partners
CEO of the Year: Presented to a CEO who has successfully scaled their company through outstanding leadership, ability to attract and retain talented resources, financial accomplishments and the implementation of strategic growth opportunities.
Al Goldstein, CEO & Co-Founder, Avant
David Kalt, Founder &. CEO, Reverb.com
Shawn Riegsecker, Founder & CEO, Centro
Sanjay Shah, Founder & CEO, Vistex, Inc.
Doug Waggoner, CEO, Echo Global Logistics
Industry Disrupter: Presented to the company that has developed or introduced an ingenious, non-traditional, and innovative product or service that has significantly disrupted its industry.
Ascent RegTech
Envoy Global
Narrative Science
NuCurrent
Payformance Solutions
Lighthouse: Presented to the growth-stage company, (more than $25 million in revenue) that, through innovation in products, services, or business approach, has grown to become a serious competitor in the marketplace.
Cars.com
Enova
RedShelf
Showpad
Tempus
Prominent Woman in Tech: Presented to a preeminent woman or individual identifying as female in the local industry who has championed technical innovation to drive the growth and success of her organization.
Amy Bourne, COO, Brad's Deals
Lin Classon, Head of Public Cloud, Ensono
Reem Jaghlit, VP of Product Engineering, ActiveCampaign
Marina Malaguti, Director of Data Engineering, Jellyvision
Sara Rossio, Chief Product Officer, PowerReviews
Outstanding Company Culture: Awarded to the technology company that has instilled a high-performance culture in their workplace by encouraging employees to take their career to the next level, fostering diversity and inclusion, and are committed to positively contributing to the community.
Devbridge
G2
Solstice
TopstepTrader
Vibes
Rising Star: Presented to the company with the strongest potential to emerge as a leader in the technology industry ($5 to $25 million in annual revenue).
Apervita, Inc.
Maropost
Perkspot
TRUCE Software
YCharts
Technologist of the Year: Presented to the individual whose talent has championed true innovation, either through new applications of existing technology or the development of technology to achieve a truly unique product or service.
John Barnes, CTO, Infutor Data Solutions
Tej Brar, Chief Product Officer, Guaranteed Rate
Henrietta "Hettie" Dombrovskaya, Associate Director Database Architecture, Braviant Holdings
Brian Garofola, CTO, Vibes
Ben Houston, CTO, ThreeKit
Toast of Chicago Tech: Presented to an individual or company who after winning an award at CityLIGHTS continued on to make an impact in the Chicago tech community through successfully led companies, development of a new or innovative service, championing for peers and the community as a whole.
Braintree
Cleversafe
Grubhub
i.c.Stars
Jellyvision
Origin Ventures
Relativity
Sprout Social
SPSS
Trading Technologies
Discover who wins by attending the ITA CityLIGHTS Awards ceremony on Thursday, September 12 at Morgan Manufacturing in Chicago. Tickets and tables are available for purchase at itacitylights.com/tickets or contact Derrick Davis at derrick@illinoistech.org.
Thank you to the 2019 presenting sponsor: Deloitte; premier partners: Hyde Park Angels, Madison Dearborn Partners, OneSpan and Silicon Valley Bank; VIP reception sponsor: Lantern Partners; opening reception sponsor: Paylocity; wine sponsor: West Madison Wealth Management; and photo-booth sponsor: Swift Prepaid Solutions.
About ITA
The Illinois Technology Association (ITA) scales Illinois tech companies. With innovative resources that allow members to collaborate with each other, build their talent networks and elevate their local and national presence, ITA is the region's strongest advocate for fostering innovation and growth. Founded in 2005 and supporting 500-plus growth-stage tech companies, ITA has a rich history of driving business forward. For more information, visit illinoistech.org, follow @ITAbuzz on Twitter or find us on LinkedIn.