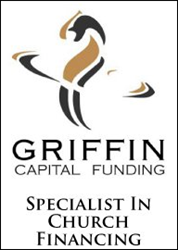 From the beginning, the goodness of Brother Grace has shown through with his work in helping churches. He is always looking out for others and has from day one expressed his values when it comes to church and family
Fredericksburg, VA (PRWEB) May 16, 2014
Griffin Capital Funding, a leader in church financing for over 15 years, applauds Antonio Grace, their regional Church Loan Expert based out of Williamsburg, VA. Antonio Grace is also a minister and member of First Baptist Church Denbigh of Newport News.
One morning, Brother Grace was crossing the street with a fellow Pastor, when he observed a reckless driver headed directly toward a female pedestrian. The woman was clipped by the reckless driver's van, and she was thrown to the ground. Another car followed, whose driver could not see her lying on the street. Brother Grace raced to save the woman from the impending deadly impact. Brother Grace was hit head on during this selfless act.
Multiple surgeries followed for Brother Grace, and he is still recovering today. The actions of Brother Grace speak to his integrity. When John Berardino, a founding member of Griffin Capital Funding, was asked about Antonio Grace's actions he replied, "From the beginning, the goodness of Brother Grace has shown through with his work in helping churches. He is always looking out for others and has from day one expressed his values when it comes to church and family. Although I was startled to hear the news, I was not surprised that Brother Grace did something so selfless. He is a good person through and through. We are lucky to have him on our team."
Those interested in learning more about Griffin Capital Funding or financing for church properties can visit http://www.churchloans.net or call John Berardino at 540-736-7360.
About Griffin Capital Funding
Griffin Capital Funding has been serving churches for 15 years by providing church loans for the refinance, construction, renovation and purchase of almost any church building (churchloans.net). On average, Griffin provides over $100,000,000 a year in loans to churches. Griffin Capital Funding is one of the most well-known and respected church financing companies in the country. Griffin Capital Funding also offers loans to for profit businesses through the SBA 7A and 504 loan programs as well as offering hard money loans.