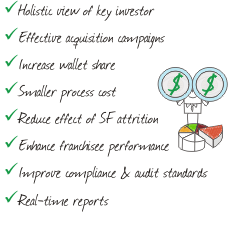 Leading financial CRM software launches advance knowledge management.
New Delhi (PRWEB) October 15, 2013
CRMnext, Asia's leading financial CRM software, introduces advance version of its knowledge management functionality, which enables quick and convenient sharing of information and documents. The new knowledge management functionality also helps to ensure that accurate information is shared with customers too and also allows users to rate and update the shared information depending on their roles and permissions. With the help of centralized information, organizations can focus on creating smart products and providing improved service quality.
The advanced knowledge management tool helps in creating workspaces with customized tagging and content sharing rules, which can be used for sharing documents between individuals or teams or made available to all. The new tool enables an organization to get alerts when new version of an existing document is uploaded. It allows the users to view details like, most popular tags, recent activities, contributors for workspaces on a single interface.
"A rich knowledge base is vital for the success of any organization. The smart knowledge management feature helps users to access information in the most convenient and timely manner helping them to be more effective and efficient. It creates the most valuable asset for any organization over a period of time," stated Dr. Manoj Kumar, Product Architect, CRMnext.
About CRMnext:
CRMnext is a specialist Customer Relationship Management product company with focus on ultra-scalable installations. CRMnext team has proven track record of delivering High-Impact CRM solutions in their key practice vertical of Financial CRM, Banking CRM, Insurance CRM, Media CRM, Pharma CRM, Telecom CRM etc. Unlike commodity CRM, CRMnext has been widely recognized as a proponent of strategy driven implementations.
Know more about Financial CRM Software Solution by Visiting to http://www.crmnext.com/solutions/finance.aspx.