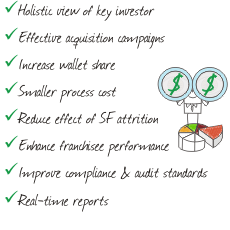 Asia's #1 Financial CRM Software
New Delhi (PRWEB) October 16, 2013
The new advance partner management functionality enables to provide a rich 360 degree view of leads and customers, create alerts, customized assignments and escalations, thereby ensuring that partners have access to accurate information, whenever required.
The advanced tool provides detailed information pertaining to new and existing partners, their category, type, priority, value, products, etc. The smart partner management tool can be used leads or opportunities of partners and update details when required. With the improved partner management tool, an organization can track details of partners and also generate timely reports to facilitate quick analysis of performance. The tool ensures that customer and partner information is always secure through multiple user and IP configuration, thereby displaying only that information, which is relevant to the user.
On the occasion, Dr. Manoj Kumar, Product Architect, CRMnext said, "Having an advanced partner management tool allows an organization to improve productivity and profitability of the partners. Organizations can accurately pinpoint bottlenecks and facilitators in the partner eco-system to create a sustainable competitive advantage."
About CRMnext:
CRMnext is a specialist Customer Relationship Management product company with focus on ultra-scalable installations. CRMnext team has proven track record of delivering High-Impact CRM solutions in their key practice vertical of Financial CRM, Banking CRM, Insurance CRM, Media CRM, Pharma CRM, Telecom CRM etc. Unlike commodity CRM, CRMnext has been widely recognized as a proponent of strategy driven implementations.
Know more about Financial CRM Software Solution by Visiting to http://www.crmnext.com/solutions/finance.aspx.