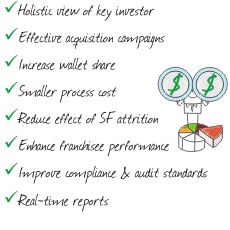 Financial CRM Solution, Releases Advanced Team Management Functionality
Delhi (PRWEB) November 27, 2013
CRMnext, market leader in financial CRM solution, releases advanced team management functionality, which will help companies to efficiently manage complex team structures across departments and geographies through a powerful user interface with multi-level and multi-dimensional capabilities. With the help of the advanced team management feature, businesses can assign roles, products, territories and targets to different team members based on top-down or bottom-up approach.
The smart team management tool enables to associate a particular user in multiple teams. With its advanced set of features, it allows organizations to conveniently set up new teams, make incremental changes, specify their business units, team heads and support representatives through a very simple user interface.
On the occasion, Dr Manoj Kumar, Product Architect, CRMnext said, "The new team management capability ensures that there is high level of co-ordination between groups of individuals working in various teams. The new team management functionality also assures consistent flow of information within teams and also between different teams on basis of the hierarchies created."
About CRMnext:
CRMnext is a specialist Customer Relationship Management product company with focus on ultra-scalable installations. CRMnext team has proven track record of delivering High-Impact CRM solutions in their key practice vertical of Financial CRM, Banking CRM, Insurance CRM, Media CRM, Pharma CRM, Telecom CRM etc. Unlike commodity CRM, CRMnext has been widely recognized as a proponent of strategy driven implementations.
Know more about Financial CRM by visiting to http://www.crmnext.com/solutions/finance.aspx