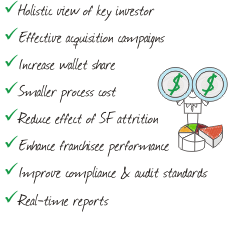 CRMnext, Market Leader in Financial CRM Solution
Delhi (PRWEB) October 14, 2013
CRMnext, market leader in financial CRM solution, enhances its email syndication functionality that enables an organization to efficiently manage customer queries, complaints or request received through emails. The smart email syndication tool allows an organization to accurately segregate emails and convert them to a service ticket or a sales lead on basis of multiple criteria like subject, email id on which the request is received etc. The new tool ensures that all customer queries and complaints are catered within the established time frame, which will build customer loyalty and provide enhanced customer experience.
With the help of the advanced email syndication service, companies can correctly map content from customer emails to a specific customer record in CRMnext. Using the new email syndication tool, details pertaining to a case or a lead can be sent through auto-populated templates via email or SMS. For all the emails that have been captured through email syndication, assignment rules can be created, so that customer complaints, queries and requests are accurately resolved by the right representative.
On the occasion, Dr. Manoj Kumar, Product Architect, CRMnext said, "Having the advanced email syndication functionality in place assures that none of the customer complaints or requests go unattended. The enhanced email syndication tool helps to efficiently manage all email communication which results in a happy customer".
About CRMnext:
CRMnext is a specialist Customer Relationship Management product company with focus on ultra-scalable installations. CRMnext team has proven track record of delivering High-Impact CRM solutions in their key practice vertical of Financial CRM, Banking CRM, Insurance CRM, Media CRM, Pharma CRM, Telecom CRM etc. Unlike commodity CRM, CRMnext has been widely recognized as a proponent of strategy driven implementations.
Know more about Financial CRM Solution by visiting to http://www.crmnext.com/solutions/finance.aspx.