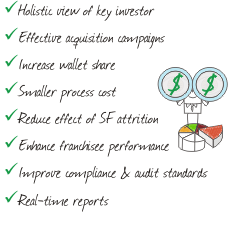 CRMnext, Asia's #1 financial CRM solution, releases advanced dynamic mashup control functionality.
Delhi (PRWEB) November 26, 2013
CRMnext, Asia's # 1 financial CRM solution, releases advanced dynamic mashup control functionality, which will help businesses to embed and display information from external system in CRMnext on real-time basis. It will also allow display of information from social platforms like Facebook, Twitter, LinkedIn, etc. on the fly to help brands manage their social media presence. It will also enable organizations to securely share information between disparate systems hence reducing hopping between multiple screens by the customer facing teams.
The advanced dynamic mashup control will also help in increasing user adoption as content from multiple sources could be mashed up to display a holistic view of information on a single interface. For instance information from core system, dispatch systems, google apps, RSS feeds etc. can be made available very easily to the users depending on their roles and permissions.
With the help of the dynamic mashup control tool, business administrators will be able to effectively create new mashups and conveniently enter attributes like mashup name, description, code, image, required parameter, etc. and assign it to the concerned object. Also, once the mashup is created it can be modified or deleted, whenever required.
On the occasion, Dr Manoj Kumar, Product Architect CRMnext said, "Organizations will be able to improve operational efficiency by putting their well-defined services that do discrete bits of business logic together with other external sources to provide interesting views on the data."
About CRMnext:
CRMnext is a specialist Customer Relationship Management product company with focus on ultra-scalable installations. CRMnext team has proven track record of delivering High-Impact CRM solutions in their key practice vertical of Financial CRM, Banking CRM, Insurance CRM, Media CRM, Pharma CRM, Telecom CRM etc. Unlike commodity CRM, CRMnext has been widely recognized as a proponent of strategy driven implementations.
Know more about Financial CRM by visiting http://www.crmnext.com/solutions/finance.aspx.