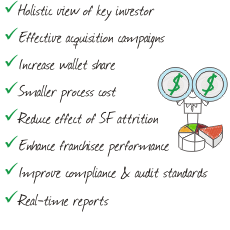 CRMNext, Market Leader in Financial CRM Solution
New Delhi (PRWEB) October 11, 2013
The smart CIBIL adapter tool is beneficial in securing credit scores in real-time within the CRM solution on a single click, helping the field sales team to provide instant quotations to the customers. This will help to reduce bad loans by enabling organizations take more informed decisions.
The advanced CIBIL adapter tool ensures that all credit related customer is sourced from CIBIL and displayed to the front end sales teams in a simple interface. This information involves customer's personal details, balance details, pending loan records, etc. Based on this information, the new CIBIL adapter tool creates Credit Information Reports (CIR) that can also be used at any stage by institutions to help evaluate and approve loan applications faster.
"Having the required customer data on a single click in real-time will help organizations to step ahead of its competitors. The smart CIBIL adapter tool allows an organization to take more realistic and informed decisions as it can effectively short-list those consumers who can pay back their loans quickly and economically," said Dr. Manoj Kumar, Product Architect, CRMnext.
About CRMnext:
CRMnext is a specialist Customer Relationship Management product company with focus on ultra-scalable installations. CRMnext team has proven track record of delivering High-Impact CRM solutions in their key practice vertical of Financial CRM, Banking CRM, Insurance CRM, Media CRM, Pharma CRM, Telecom CRM etc. Unlike commodity CRM, CRMnext has been widely recognized as a proponent of strategy driven implementations.
Know more about Financial CRM by visiting to http://www.crmnext.com/solutions/finance.aspx.