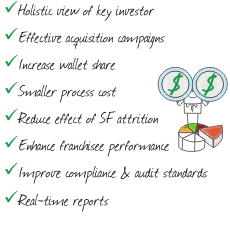 Financial CRM Solution Releases Advance Two-Way SMS Functionality
New Delhi (PRWEB) October 18, 2013
CRMnext, # 1 Financial CRM solution released an advance two-way SMS feature, which will help to improve customer experience and boost lead generation through SMS campaigns. The new release has advance SMS short code management capability with auto-populated templates, which will help to provide real-time updates on service request and sales fulfillment status.
The smart Two-Way SMS tool can be configured to create and update records using incoming text messages based on multiple parameters. The new tool allows an organization to create smart personalized SMS templates that guarantees a consistent customer experience. The two-way SMS functionality ensures that customers have a convenient access to all the information they need. Customer facing teams receive constant notifications through SMS, emails or alerts about message deliveries that have failed, thereby facilitating early corrective actions.
On the occasion, Dr. Manoj Kumar, Product Architect, CRMnext, said, "The advanced two-way SMS functionality ensures that customer problems, queries or cases are solved faster, thereby increasing customer loyalty. There is consistency of information among different teams in the organization. Since everyone has a mobile phone, SMS is also the most effective way to reach the target audience."
About CRMnext:
CRMnext is a specialist Customer Relationship Management product company with focus on ultra-scalable installations. CRMnext team has proven track record of delivering High-Impact CRM solutions in their key practice vertical of Financial CRM, Banking CRM, Insurance CRM, Media CRM, Pharma CRM, Telecom CRM etc. Unlike commodity CRM, CRMnext has been widely recognized as a proponent of strategy driven implementations.
Know more about Financial CRM Solution by Visiting to http://www.crmnext.com/solutions/finance.aspx.