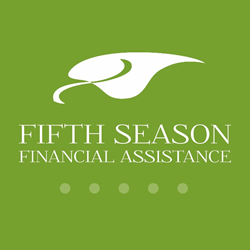 We're pleased to work with Happy Chemo! to help bring some 'extra love' to these cancer patients during a difficult time.
White Plains, New York (PRWEB) November 04, 2014
Over the last six years, Fifth Season Financial has provided financial assistance of more than $60 million to more than 360 people and their families through the Loans for Living lending program. Seeing the need to also provide encouragement for those facing cancer, Fifth Season recently partnered with HappyChemo.com to provide Bags O' Love to hundreds of cancer patients throughout the United States.
"This has been something I've wanted to see happen since I originally began Happy Chemo!," shares Ginger Johnson, founder of HappyChemo.com. "I had no idea that something so simple as delivering gifts and wishing people 'Happy Chemo!' would turn into a national network now serving thousands of survivors."
The oxymoron first made its appearance in a cancer treatment facility in Ogden, Utah, as Johnson, then a cancer patient herself, began collecting prizes and wishing patients a 'Happy Chemo!' as she handed out the gifts before her infusion treatments began.
Make no mistake, however, as Johnson fully comprehends that chemotherapy is not 'happy.'
"I was diagnosed with breast cancer when I was 31 years old and five months pregnant. I also had a 5 and 7 year old at home. I felt the full force of every treatment and the side effects afterwards, but that's why Happy Chemo! became so important to me. I knew that the words Happy Chemo! didn't really go together, but just like you wish a person 'happy birthday' to celebrate their life, 'Happy Chemo!' became my wish for happiness for them during the fight of their life."
Adam Balinsky, president of Fifth Season Financial, understands how difficult that fight for life can be, especially when coupled with financial hardship. "We see first-hand how financial stress compounds a patient's already fragile medical condition," said Balinsky. "We're pleased to work with Happy Chemo! to help bring some 'extra love' to these cancer patients during a difficult time."
Combining forces, Fifth Season Financial sponsored the creation and delivery of two hundred Happy Chemo! Bags O' Love to four cancer treatment facilities in Washington, California and Georgia. Cancer patients who are members of HappyChemo.com participated in gift bag distribution and were able to share in the experience of serving others.
"Being able to participate has been a real blessing to me," shared Barbara from Seattle Washington. "All the patients I have spoken with have been thrilled with the bags! I am so happy to be able to give back all the love, caring & support I received while undergoing chemo."
Fifth Season Financial has found great satisfaction in being able to offer support for those facing cancer and desires to help as many cancer patients as possible with the program it offers.
About Fifth Season Financial
Fifth Season's mission is to partner with persons facing advanced stage diseases in order to help them regain control over their financial situation. The need for financial help and access to discretionary funds for people with advanced stage diseases is overwhelming. Fifth Season has partnered with more than 360 patients and their families' and provided over $60 million of loans through their "Loans for Living" program. For more information about Fifth Season and the "Loans for Living" program, please visit Fifth Season at http://www.fifthseasonfinancial.com
About Happy Chemo!
HappyChemo.com is an innovative marketplace and central connecting point for tens of thousands of survivors and caregivers who are seeking additional hope, health and happiness as they face the cancer journey. As a fast growing referral source, those facing cancer are able to connect with high quality cancer related products and services provided by approved partners and organizations in the Happy Chemo! Network. Known as an 'oxymoron on a mission', the vision is to reach every survivor in America (eventually the world) and eliminate hearing the words, "I wish I would have known about such and such earlier."