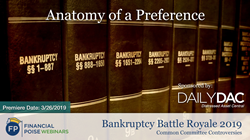 No matter how you are involved in a Chapter 11 bankruptcy proceeding, there is a real chance you will wind up litigating some issue.
CHICAGO (PRWEB) March 07, 2019
Chapter 5 of the Bankruptcy Code creates certain causes of action that arise only upon the filing of a bankruptcy case. Specifically, these provisions enable the debtor or trustee to take actions to bring assets back into the debtor's estate. Most commonly, these come in the form of preference lawsuits This webinar discusses the standards for bringing these causes of action, and then dives into how to defend against them. The panelists also provide practical tips on how creditors can try to protect and insulate themselves from these attacks ahead of time by taking certain precautions when dealing with a distressed business prior to the filing of a bankruptcy case.
To learn more, click here.
The webinar will be available on-demand after its premiere. As with every Financial Poise Webinar, it will be an engaging and plain English conversation designed to entertain as it teaches.
About Financial Poise –
Financial Poise has one mission: to provide reliable plain English business, financial and legal education to investors, private business owners and executives, and their respective trusted advisors. Financial Poise content is created by seasoned, respected experts who are invited to join our Faculty only after being recommended by current Faculty Members. Our editorial staff then works to make sure all content is easily digestible. Financial Poise is a meritocracy; nobody can "buy" their way into the Financial Poise Faculty. Start learning today at https://www.financialpoise.com/