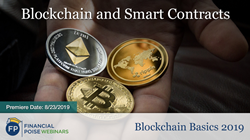 This webinar series will be a detailed exploration of blockchain and its involvement with smart contracts, supply chain, and trade finance tech.
CHICAGO (PRWEB) August 20, 2019
About the Series: In Dr. Strangelove, a party created a "doomsday machine" that would automatically destroy all life if the machine detected a nuclear attack on that party. There was no override, and, well, let's just say that the film is hilarious but probably not a comedy in a conventional sense. There, if the "network" received certain information, the device would activate. Like a smart contract on a blockchain. The problem in Dr. Strangelove was that the party that created the doomsday machine activated it before telling its adversary (i.e., the other network participant). That "smart contract" was critically not smart. Blockchain smart contracts (with much smaller but still meaningful stakes) are computer code designed to adjust automatically the rights and obligations of network participants based upon the inputting of information to the network, with such information visible to all and inputted per means and procedures agreed upon by all before the contracts become effective. And thus paper-intensive, multi-step and multi-party transactions, like securities sales, supply chain coordination, and supply chain finance, might proceed with greater ease and security. Costs could be lowered, transactional speed quickened, and litigation simplified or evaded entirely. We will examine these areas of promise.
About the Episode: Blockchain is a tool. Samson Williams likens blockchain to a group text message, in which each participant receives a distributed, time-stamped, tamper-resistant (and encrypted) record of data transactions. Each group text has these characteristics. Everyone in the group "sees" the data, and none can change or gainsay any group message. Smart contracts are computer code put on the blockchain (how, exactly?) that establishes self-executing terms and conditions of a transaction. Are smart contracts smart? If certain data comes in and fulfills a pre-set term or condition, then rights and responsibilities are formed, terminated, modified, or shifted among the parties. Ah certainty and transparency, but also ah garbage in and garbage out. Are some contractual terms not amenable to smart contracting? And are smart contracts necessarily contracts? If not, can they still be useful? If a smart contract is a contract, what is the governing document? Is it the words business people and lawyers use, or is it the code that is supposed to reflect the words?
To learn more, click here.
The webinar will be available on-demand after its premiere. As with every Financial Poise Webinar, it will be an engaging and plain English conversation designed to entertain as it teaches.
About Financial Poise
Financial Poise has one mission: to provide reliable plain English business, financial and legal education to investors, private business owners and executives, and their respective trusted advisors. Financial Poise content is created by seasoned, respected experts who are invited to join our Faculty only after being recommended by current Faculty Members. Our editorial staff then works to make sure all content is easily digestible. Financial Poise is a meritocracy; nobody can "buy" their way into the Financial Poise Faculty. Start learning today at https://www.financialpoise.com/