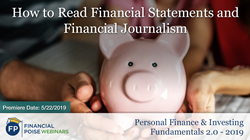 This webinar will help investors better understand financial statements and financial journalism.
CHICAGO (PRWEB) May 02, 2019
Journalists, financial and otherwise, are not paid to compare carefully the strongest pro- and con- arguments of a proposition. Strong incentives push journalists toward producing loud click-bait. There is no day of reckoning for their views, as there is for investors who do as suggested. Readers, for their part, tend to click what confirms their own biases. How can an investor separate the wheat from the chaff in financial journalism? How can an investor look at the financial statements of a potential investment and decide for herself what the numbers mean? These are the topics for this webinar.
To learn more, click here.
The webinar will be available on-demand after its premiere. As with every Financial Poise Webinar, it will be an engaging and plain English conversation designed to entertain as it teaches.
About Financial Poise –
Financial Poise has one mission: to provide reliable plain English business, financial and legal education to investors, private business owners and executives, and their respective trusted advisors. Financial Poise content is created by seasoned, respected experts who are invited to join our Faculty only after being recommended by current Faculty Members. Our editorial staff then works to make sure all content is easily digestible. Financial Poise is a meritocracy; nobody can "buy" their way into the Financial Poise Faculty. Start learning today at https://www.financialpoise.com/