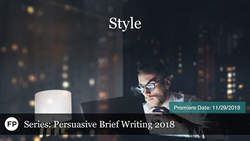 This webinar not only discusses bad habits that can damage briefs, it explores good habits that brief-writers should embrace.
CHICAGO (PRWEB) November 28, 2018
Especially in federal district court, pre-trial litigation occurs almost entirely "on the papers," with few, if any, oral arguments or courtroom presentations. If litigators want a claim to survive or be dismissed, discovery to be permitted or denied, or evidence to be admitted or barred, they must persuade the court in writing. But mastering the craft of persuasive legal writing can take decades and require shedding ingrained old habits and defying some common expectations.
Join a panel including seasoned litigators, two former legal writing instructors, and a sitting judge discuss the structure, substance and style of effective brief-writing. This PERSUASIVE BRIEF WRITING 2018 Financial Poise webinar series will help new and more experienced litigators sharpen a set of crucial skills that can, and should, continue developing throughout their careers.
The final episode of the series, Style, airs on November 29th at 2:00 PM CST (Register Here) and features Moderator Robert Michaels of Goldstein & McClintock LLLP. He is joined by Hon. Daniel Patrick Duffy of the Circuit Court of Cook County, IL, Nora Schweighart of Faegre Baker Daniels, and Susan Valentine of Valentine Austriaco & Bueschel, P.C.
We've all long heard about writing practices to avoid, including run-on sentences, excessive passive voice, and nominalization. This webinar not only discusses how those habits can damage briefs, but also explores a key habit brief-writers should embrace: using strong, precise verbs, which are the engine of a persuasive sentence. Panelists also exchange views about finding the most persuasive voice and tone, as well as the right temperature for rhetoric (usually, well below a simmer).
The PERSUASIVE BRIEF WRITING 2018 webinar series is produced by Financial Poise.™ All episodes premiere live through West LegalEdCenter and then are made available on-demand.
As with every Financial Poise Webinar, each episode is delivered in Plain English understandable to investors, business owners, and executives without much background in these areas, yet is also valuable to attorneys, accountants, and other seasoned professionals. And, as with every Financial Poise Webinar, each episode brings you into engaging, sometimes humorous, conversations designed to entertain as it teaches. Each episode in the series is designed to be viewed independently of the other episodes, so that participants will enhance their knowledge of this area whether they attend one, some, or all episodes.
About Financial Poise™
Financial Poise™ has one mission: to provide reliable plain English business, financial and legal education to investors, private business owners and executives, and their respective trusted advisors. Financial Poise™ content is created by seasoned, respected experts who are invited to join our Faculty only after being recommended by current Faculty Members. Our editorial staff then works to make sure that all content is easily digestible. Financial Poise™ is a meritocracy; nobody can "buy" her way onto the Financial Poise Faculty.™ Start learning today at https://www.financialpoise.com/