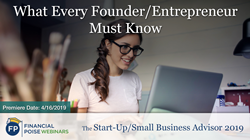 Whether and to what extent a startup will be successful depends on many factors. It's time to ask questions.
CHICAGO (PRWEB) April 04, 2019
Congratulations. You are a founder of a company and you have just been given an hour to ask several experts anything you want about the subject. Some questions will certainly focus on IP, since intellectual property is so important to so many businesses. Some questions will touch on outsourcing- perhaps of manufacturing, perhaps of certain other functions. Formation, capital raising, and HR are also fair game. And since the panel includes two attorneys, you can be sure that the conversation will cover both the business and legal aspects of the various topics discussed.
To learn more, click here.
The webinar will be available on-demand after its premiere. As with every Financial Poise Webinar, it will be an engaging and plain English conversation designed to entertain as it teaches.
About Financial Poise –
Financial Poise has one mission: to provide reliable plain English business, financial and legal education to investors, private business owners and executives, and their respective trusted advisors. Financial Poise content is created by seasoned, respected experts who are invited to join our Faculty only after being recommended by current Faculty Members. Our editorial staff then works to make sure all content is easily digestible. Financial Poise is a meritocracy; nobody can "buy" their way into the Financial Poise Faculty. Start learning today at https://www.financialpoise.com/