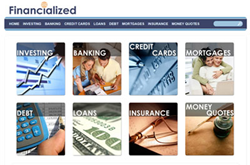 The goal is to introduce financial concepts in simple words to help visitors make informed borrowing decisions.
(PRWEB) June 20, 2014
Financialized.com released a new video (http://www.financialized.com/Debt) to teach consumers the basics of debt and help them choose from different alternatives, including credit counseling, consolidation, home equity loans, debt management plans, and bankruptcy.
The new debt guide was created by the web design and content development team at Financialized.com to help visitors manage their debt responsibly and get access to expert advice, budgeting help, and education on debt reduction and money management.
"The guide by Financialized.com covers debt essentials, from types of financing to alternatives to bankruptcy. Whether it is a good idea to apply for a new loan and how to manage piling debt are questions that many customers ask. The goal is to introduce financial concepts in simple words to help visitors make informed borrowing decisions," said John Williams, marketing consultant at Financialized.com.
The new debt guide covers important topics such as the use of borrowed funds, payment and credit history, excessive debt, debt management alternatives, and many others. Many borrowers find themselves knee-deep in debt because of loss of employment or underemployment, reduced income, financial illiteracy, and poor borrowing decisions. Poor investments, taxes, lack of insurance, and financial products with high maintenance fees and interest rates are also reasons for excessive debt. Basic financial knowledge benefits anyone, regardless of family size, occupation, income level, salary, background, and long- and short-term goals. The problem is that many consumers lack basic financial skills to make financial choices, throughout life and on a daily basis. The new debt guide by Financialized.com covers a range of topics and shows that financial decisions often have serious implications. Excessive debt and money worries can cause relationship breakdowns, health problems, a nervous breakdown, and drinking problems. Debt affects performance, community and social engagement, and family relationships. The goal of the new debt guide is to cover different aspects of debt and personal finance to help visitors get their finances back on track.
About Financialized.com: Financialized.com is a website focused on offering free education on important financial topics.