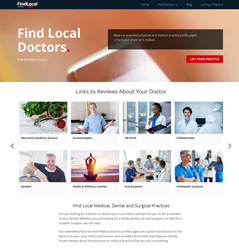 We are proud to provide such a credible and quality directory that helps doctors and consumers alike. From one website, doctors can showcase their expertise and consumers can retrieve information, says Ashly Tucker - Social Media Director for Find Local
Atlanta, Georgia (PRWEB) January 22, 2016
Find Local Doctors was founded to provide a high quality directory with no ancillary advertising and only original content for listed practices or doctors. Physicians who own a medical, dental or surgical practice gain a distinctive platform when listed in Find Local Doctors directory. They are given a full profile page of unique content as well as specialty pages in which they can highlight a specific area of expertise or a specialized treatment or service that they offer. Find Local Doctors features physicians across multiple medical fields, including dentists, dermatologists, OB/GYNs, plastic surgeons and more.
The upgraded layout for Find Local Doctors provides a significant benefit for both doctors and consumers. Featured on each doctor's profile page are links to multiple websites that allow consumers to read reviews about the doctor or practice. Such websites include Yelp, Google+, Kudzu and other credible sources that provide valued and accessible insight for patients who want to feel secure in their chosen physician or need to make an informed decision about a new healthcare provider.
"We are proud to provide such a credible and high quality directory that helps both doctors and consumers alike. From one website, doctors can showcase their expertise and consumers can save time by easily retrieving important information about their healthcare providers, including what other patients are saying about a specific physician or practice," says Ashly Tucker, spokesperson for Find Local Doctors.
About Find Local Doctors:
Find Local Doctors directory, which can be accessed at http://www.findlocal-doctors.com, is based in Atlanta, Georgia. The directory was developed to help consumers quickly and easily find reviews and profile information about doctors and dentists who practice in their specific geographical areas. Find Local Doctors helps doctors gain recognition in a high quality directory that provides full-page profiles of original content and a unique platform without advertising. Owners of medical, dental or surgical practices who are interested in listing their practice in the Find Local Doctors Directory should email ashly(at)findlocalcompany(dot)com.