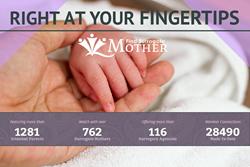 We had two main goals — to build a dynamic platform for connections that are easily available on any technological device, and continue to be a valuable resource hub for the surrogacy community
New York, NY (PRWEB) October 21, 2014
After months of deliberation, genius designing, and an inflexible work ethic, FindSurrogateMother.com, has unveiled its new responsive web design.
FindSurrogateMother.com offers a unique platform that does not interfere with the connections being made between its members. The connections are non-intrusive and made organically between hopeful intended parents and surrogate mothers.
Receiving multitudes of responsiveness itself in the tech-world, responsive web design continues to push the boundaries of aesthetics and convenience. What exactly is this celebrated responsive design? It is revolutionizing the web design industry and the competitive edge for businesses. Regardless of device — smartphones, tablets, desktops, laptops, televisions — the website immediately transforms in size, content relocates, images transfer, font sizes shift, and the navigation tool adjusts to deliver an incomparable user experience.
The new expressive design offers comprehensive guides on surrogacy, egg donation, IVF, gay surrogacy, surrogacy laws, and pregnancy and offers eye-catching characteristic elements in its member pages.
"We are excited to bring this innovative and improved resource to the surrogacy community," stated Brandie Umar, CEO and Founder of FindSurrogateMother.com.
With more than 82,000 page views per month, the FindSurrogateMother.com community continues to be the go-to site for the most modern, accurately defined information on surrogacy.
Website Design and Access —
The company's site redesign aims to increase transparency by making it easier to access information —from IVF to the laws of surrogacy to LGBT family building — alongside the remarkable composition of searching for surrogate mothers, egg and sperm donors, and surrogacy specialists and the unique ability to connect with others in the community.
"We had two main goals — to build a dynamic platform for connections that are easily available on any technologic device, and continue to be a valuable resource hub for the surrogacy community," stated Mrs. Umar.
Among the many changes users will notice is the unique stats toolbar, in which intended parents, surrogate mothers, and agencies can stay up-to-date with live statuses on the number of memberships and connections made. At every turn, FindSurrogateMother.com users are graced with a peculiar trace of personalization and an all-embracing element of support for all walks of life.
Notably, the site offers an ingenious global blog landing that gives users the chance to connect with empowering individuals who similarly look to help others achieve the goal of parenthood and most of all — motivate others to blog about their own distinctive characteristics, hardships, delights and unique journeys.
The Evolution of Today's Modern Family —
In August of 2014, CEO and Founder, Brandie Umar, put out the following statement, "I have always believed that there should be an enhanced surrogacy platform that offers enlightenment and a vision of equality on the evolution of today's modern family. We're extremely proud and honored to watch this platform reach new heights, and have a significant presence in this ever-changing industry."
Further building on this structure and belief, the FindSurrogateMother.com team is pleasurably amazed by the pace of progress that the site has made to-date. In the next year, the company is looking to enhance its partnerships with global non-profits and organizations who support surrogacy.
Members of FindSurrogateMother.com span across the United States, United Kingdom, Canada, Kenya, France, India, the Philippines, Spain and 64 more countries across the globe. The FindSurrogateMother.com community is formed by hopeful parents, inspired surrogate mothers, and surrogacy agencies working toward one common goal — the precious gift of life.
About FindSurrogateMother.com
FindSurrogateMother.com focuses on providing the educational resources and support to simplify what can be a demanding and intimidating journey to parenthood. The company brings an unmatched level of information and support to help intended parents, surrogate mothers, egg donors, and sperm donors explore all of their options through surrogacy and gay surrogacy. It is their faith in an exclusive experience that allows the team to provide the best resources, comfort and information to exhaust the possibilities and overall balances of building families with love. Find SurrogateMother.com understands that it is a delicate journey that can include countless anxieties and uncertainties, and it is available to represent a greater commitment to what is most important — YOU.