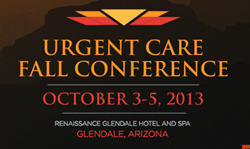 Scottsdale, AZ (PRWEB) September 26, 2013
Find Urgent Care, LLC (FindUrgentCare.com) the nations leading urgent care clinic search engine, to exhibit at the Urgent Care Association of America (UCAOA) 2013 Fall Conference in Glendale, AZ. FindUrgentCare.com will be at booth #410 helping urgent care clinics verify their listing for accuracy and earn a "Verified Stamp." Additionally, UCAOA members will receive a Special Offer to test drive the "Advance Listing" membership.
The conference will be held at:
Renaissance Phoenix Glendale Hotel & Spa
Upper Lobby Level
9495 W Coyotes Blvd
Glendale, Arizona 85305
Thursday, October 3rd to Saturday, October 5th, 2013
Find Urgent Care will have booth #410.
Founded in 2004, Urgent Care Association of America (UCAOA) is for all professionals working in the urgent care industry with nearly 6,400 members, from more than 2,615 clinics in the US, Australia, Bahrain, Canada, Hungary, Ireland, Israel, Mexico and New Zealand. UCAOA has both individual and practice members.
UCAOA focuses on the role of urgent care medicine as a healthcare destination and provides ongoing support through the education, advocacy, community awareness, benchmarking and promoting standards of excellence.
The UCAOA Fall Urgent Care Conference is an intense immersion program and exhibition for the urgent care industry. The event will feature one-day and two-day courses covering topics such as:
Clinical Masterclasses
This interactive program utilizes 100% urgent care cases, combining lecture and audience participation to replicate clinical challenges in urgent care
Urgent Care Marketing: the Essentials for Growing a Business
Take the time to learn about urgent care specific marketing strategies with the perspective of industry experts, successful owners and marketing experts.
Comprehensive Clinic Start-up
Learn how to build a full-service medical facility and "retail" business from the ground up: Contract negotiation, site selection, physical setup, equipment, and more. Learn how to do it right from experts and industry veterans.
Please visit the http://www.UCAOA.org for a full list of courses offered.
About Find Urgent Care
Find Urgent Care is an online urgent care clinic directory that helps patients find urgent care centers nationwide. Patients can locate an urgent care clinic that matches their health and payment needs, with the use of its advanced search functions.
Additionally, urgent care center owners can add their clinic to the site and request an "Advanced Listing." "Advanced Listings" receives its own customized webpage that the patient may visit.
If you are a clinic owner who would like to participate in Find Urgent Care directory, please visit here: FindUrgentCare.com.
About Urgent Care Association of America (UCAOA)
UCAOA provides educational programs, the monthly Journal of Urgent Care Medicine (http://www.jucm.com), and a variety of different resources for starting a new urgent care center, providing clinical care in the urgent care setting, and running a successful urgent care practice. UCAOA established national criteria for urgent care centers, including a Certified Urgent Care Center designation. UCAOA also partners with The Joint Commission in their Accreditation programs for urgent care centers. UCAOA is headquartered in Warrenville, Illinois. Visit http://www.UCAOA.org to learn more.