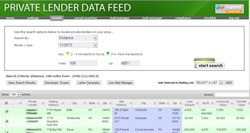 With PrivateLenderDataFeed.com, in only a few minutes I can search for new private lenders in any of my markets and create letters to send to each of them.
Miami, FL (PRWEB) December 26, 2013
One of the most effective ways to find private money is through a private lender, but most real estate investors don't have access to private lenders in their area. The all new software PrivateLenderDataFeed.com just released will give investors the opportunity to browse through a list of publicly known private lenders in their markets, giving them more easily accessible financing options to do deals.
Among the many challenges real estate investors face, finding funding for their deals is among the most difficult. There are many types of funding, but most require a credit check or bank. Real estate investors know that when doing deals they need fast funding and can't afford to wait for approval on a loan. This is why many investors turn to private lenders to lend them money for their deals.
Finding private lenders is not an easy task though. To find qualified and willing private lenders, investors have to manually search through recent real estate transactions at their county building, which can take hours of time away that should be spent doing deals and making money.
PrivateLenderDataFeed.com is the one resource investors can now use to save time and money while finding active private lenders in all of their markets. This online software is made up of a nationwide database of private lenders that have loaned money for a real estate transaction. Investors can easily search through this database by zip code and radius. There is no limitation to the number of searches one can do nor is there a limit on the number of lenders one can contact. The more private lenders an investor has at their disposal, the greater the chances are of them finding lenders willing to fund their deals.
Although finding private lenders manually is a tough task, contacting them and staying compliant with SEC can be even more difficult. Within the PrivateLenderDataFeed.com exclusive member's area, investors have the ability to send direct mailings to a list of private lenders they choose. Each member has access to their state's SEC manual within their account to make sure they stay compliant when mailing to these lenders as well.
One of the newest PrivateLenderDataFeed.com users, Cathleen, had this to say about the system, "I've been wasting my time waiting for approval on bank loans and losing deals because of it for far too long. With PrivateLenderDataFeed.com, in only a few minutes I can search for new private lenders in any of my markets and create letters to send to each of them. I didn't know anything about contacting private lenders in the past. I never bothered looking or contact them because I wasn't sure what I needed to do to be compliant. Now I have templates and an SEC manual for ever state I invest in, so I don't have to worry as much. The best part about this system is, I can access it from my house, work, the coffee shop and anywhere else I can get internet!"
Having access to the PrivateLenderDataFeed.com will help real estate investors find private money without spending hours searching for private lenders and contacting them. It only takes a matter of minutes to search for private lenders and design a compliant letter to send to them. This means that more time will be spent finding leads, doing deals, and making money.
Find out more information about PrivateLenderDataFeed.com and try out the system for only $1.99 by visiting http://www.PrivateLenderDataFeed.com today.