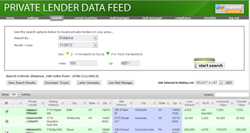 ..it's so easy and fast that reaching out to private lenders takes only a matter of minutes, and we all know time is money.
Atlanta, GA (PRWEB) May 14, 2014
The ability for real estate investors to find private money for their rehabbing projects can be a daunting task. A struggling economy has resulted in banks cutting back on long term lending. It's hard enough locating a good construction crew to do renovations, let alone a private lender.
Investors looking to find private money can find lenders quickly and easily with Cam's Private Lender Data Feed. With this new software system investors now spend less time acquiring funds, which means more time for doing deal and making money.
The Private Lender Data Feed does all the hard work for the investor, and offers the tools and features needed to locate private lenders nationwide.
Real estate investors can use Private Lender Data Feed to locate lenders by searching city, state, and zip codes and they can even use mailing address, site address, distance, and number of transaction as part of the advanced search options.
Sending letters and postcards to private lenders is easy using the customizable templates available through the Mail Manager. The Mail Manager's one-click direct mailing allows investors to contact as many lenders as they choose and investors can have reminders and tasks sent to their mobile phone or email, using the Task Manager as well.
However, investors should know that there are rules and guidelines that need to be followed when working with private lenders. Cam's Private Lender Data Feed program comes complete with an SEC compliance manual for every state. Investors can download the manual or listen to the audio provided to learn more about staying compliant. This feature will ensure investors they're complying with SEC guidelines.
Cam also includes a private lender meeting checklist. First impressions are important. Using this checklist will help investors be prepared with all the necessary material for the meeting.
This is what Floyd from Denver Colorado had to say about Cam's Private Lender Data, "The Private Lender Data Feed is easy to use, and it was not hard to learn. In fact it's so easy and fast that reaching out to private lenders takes only a matter of minutes, and we all know time is money. I have found so many private lenders that I don't have enough contractors to keep up with all my renovations."
The Private Lender Data Feed will make finding private money fast and easy for either seasoned investors or investors that are newer to the real estate business. Cam has done all the hard work. Investors will have 24/7 access to thousands of private lenders nationwide, with new lenders being added monthly.
Those looking to get on board with a risk-free trial of Private Lender Data Feed or to learn more about the tools and features within the system, visit http://www.PrivateLenderDataFeed.com today.