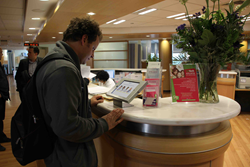 Credibility and business expansion are no longer easy to achieve without adequate online reputation management.
New York, NY (PRWEB) November 19, 2014
FOR IMMEDIATE RELEASE
FindaTopDoc™, the trusted source for valuable health information and a world-class free service that helps patients find doctors and book appointments, recently released its latest innovation in healthcare technology. The FindaTopDoc™ Review Kiosk is an in-office system that lets patients review their doctor's visit in less than 30 seconds, while everything is still fresh in their mind.
Making informed decisions about your health is empowering. With the FindaTopDoc™ Review Kiosk, patients can make smart choices about their health starting with their doctor.
Physicians are trained to assess medical conditions, diagnose patients, and provide plans for treatment. They are not trained to manage their online presence, however, with the FindaTopDoc™ Review Kiosk, physicians do not have to worry about acquiring marketing skills. They can leave their reputation in qualified hands while keeping their focus on the patient.
By paying attention to what the patient has to say, doctors can improve on their relationships with the patient, which translates into positive reviews and an increase in potential patients. Counteracting negative feedback by making procedural changes can have boosting effects for a practice's reputation both online and offline. Whether it is a small practice or a multiple location-practice, keeping the patient's opinion in mind is essential to stay ahead and expand.
The new formula for success eliminates leaving a reputation up to chance. In this new digital age, a doctor's need to provide quality care can also attract new patients by listening to what old patients have to say.
Media Director at FindaTopDoc™, Sofia Young states, "Credibility and business expansion are no longer easy to achieve without adequate online reputation management. Despite the reluctance of many physicians who place value solely on their skills and overlook the power of reviews for their business, online reputation is a very serious matter. And, when you have such a great product such as the FindaTopDoc™ Review Kiosk at your disposal in your very own office, you owe it to yourself to pay some attention to the way you are perceived online because patients do trust what they see online as much as they would trust a friend's recommendation."
To find out more about the new FindaTopDoc™ Review Kiosk, please visit http://www.findatopdocreviewapp.com/.
About FindaTopDoc.com:
FindaTopDoc™ is a service that helps patients find doctors in their area and book appointments online instantly. At FindaTopDoc.com, we believe that seeing a doctor should be simple, fast and work around your schedule.
In addition to helping millions of patients find and book doctor's appointments, FindaTopDoc™ is also a leading provider of valuable health information that helps empower you as a patient, while enabling you to live a happier and healthier life.
Booking a doctor on FindaTopDoc.com is always completely free and available to you 24 hours a day/7 days a week, from any location across the globe.
Visit http://www.findatopdoc.com for more information about our services.