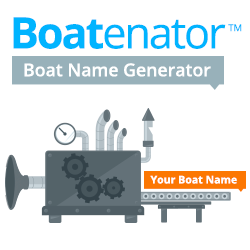 Our proprietary algorithm goes to work and the result is a boat name that perfectly matches You!
San Francisco, CA (PRWEB) April 22, 2014
BoatNexus.com introduces Boat-enator the Boat Name generator, the best way to name a boat based on the owner's personality! "With boating season right around the corner, we know there will be lots of newly purchased boats hitting the water for this 2014 season," commented Scott Teger, VP of Operations. "We wanted to utilize technology and social media to create a fun experience during this process, and add yet another layer to finding and buying a used boat on BoatNexus.com."
Is a boat owner Wealthy? Retired? Funny? Cynical? Chances are it is easy to answer those questions, just by looking at the boat's name. Boat owners have worked hard to earn the luxury of owning a boat and picking a name is symbolic of that hard work - Boat-enator helps pick the right name!
How it works?
BoatNexus.com scored thousands of boat names using 5 key attributes; Age, Wealth, Ambition, Demeanor, and Tone. After answering a series of questions, which help determine the best fit among those attributes, a proprietary algorithm goes to work. The result is a boat name that perfectly matches it's owner.
Want to get a second opinion? BoatNexus.com provides a full Facebook OpenGraph integration which allows sharing for the critique and judgment of friends and family on social media.
Here are some of our favorites:
1. Second Wife
2. Sea Cups
3. Irish Wake
4. E Sea Livin
5. Get Away
6. Seas the Day
7. Fahrfrumwurken
8. Ships-N-Giggles
9. Knot a Sailor
10. Sturgeon General
About BoatNexus.com
BoatNexus.com is a funded San Francisco-based startup, utilizing technology to innovate and revolutionize the online boat classified space. By reaching millions of engaged boat enthusiasts every month, the company makes it faster and easier than ever to buy and sell used boats. To do so, BoatNexus.com utilizes key strategic partnerships, direct media buying on all major search engines, deep social media sharing on platforms such as Facebook's Opengraph, and no technology restrictions for listings.
For more information about the technology, this article, or exposing an API, visit http://boatnexus.com.