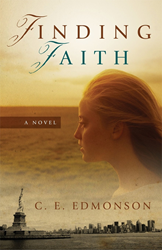 The novel's teenage heroine makes 'Finding Faith' a perfect introduction to historical fiction for young adult readers.
Seattle, WA (PRWEB) September 28, 2015
During the Great Depression, difficult times reveal family secrets for thirteen-year-old Faith Covington, and when she is faced with racism and persecution unexpectedly directed at her family, she must learn to rely on her own internal strength in C. E. Edmonson's 'Finding Faith' (ISBN 9781414118673, Trusted Books).
When the Great Depression causes business problems for her father, Faith Covington is forced to leave her comfortable life in New York City and go live with her mother in the Pennsylvania wilderness on her Aunt Eva's farm. Faith's previous education at a private girls' school never could have prepared her for roughing it this way, or for the revelations she will soon discover about her family.
Faith is stunned when she learns Aunt Eva is part Ojibwa and part Lenape—and so is Faith. As Faith adapts to her new environment and her aunt's determination to follow "the way of the People," she begins to discover new things about herself and her abilities. Faith soon befriends her aunt's Lenape neighbor, twelve-year old Paul Crow. When the properties of Paul and Faith's families are thought to be worth fortunes, Faith and Paul uncover a dangerous plot to force the Lenape people from their land.
Faith has only begun to discover who she is in her new home—now she must face losing everything all over again. From spoiled rich girl, to someone who knows the ways of the forest and even how to fish, Faith taps into her inner strength, discovering new traits about herself that she must use to face a dangerous racist situation. In the end, she will come to realize that even the Great Depression may have been a blessing for her.
As with his previous novels, C. E. Edmonson is raking in wonderful reviews for 'Finding Faith.' Trinity House Press declares the novel is, "Beautifully written, brilliantly observed…[an] inspirational account of family and friendship, with dialog that's witty and serious by turns." The novel's teenage heroine makes it a perfect introduction to historical fiction for young adult readers. Reader Views' thirteen-year old reviewer Kristen Keiran agrees, stating, "this book is recommended for ages 12+ and for both genders….I personally loved this book. I have always found Historical-Fiction fascinating and 'Finding Faith' is the perfect book to read."
'Finding Faith' can be purchased through local and online bookstores, as well as through eBookIt.com.
For more information and for publicity contact, visit http://www.ceedmonson.com. Review copies are available upon request.
About eBookIt.com
Since 2010, eBookIt.com (based in Sudbury, Massachusetts) has helped thousands of authors and publishers get their books converted to ebook format, and distributed to all the major ebook retailers, including Amazon.com, Barnesandnoble.com, Apple iBookstore, Kobo, Sony Readerstore, Ingram Digital, and Google eBookstore.