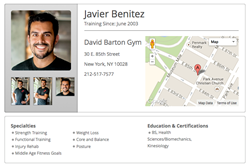 Buying and scheduling personal training should be frictionless and affordable.
New York, NY (PRWEB) November 14, 2013
Find Your Trainer (FYT) is a New York-based startup that is transforming the personal training industry by making the process of finding and booking a personal training session as easy as making a restaurant reservation or buying a plane ticket online, and at nearly half the cost as booking a session through the gym.
FYT recently launched in New York City at David Barton Gym, one of the premier health clubs in the country with locations across the United States. In the past month alone, over a dozen new gyms and private studios and over fifty personal trainers have joined the platform, with more joining every week. As demand for their platform continues to increase, FYT plans to work with other leading gym chains to expand nationwide.
With detailed personal trainer profiles that include photos, specialties, certifications and availability, FYT puts the choice of who to work out with and when into the hands of the customer. Users can also find private trainers for hard-to-find specialties like Pilates, yoga, triathlon, obstacle courses, boxing, nutrition, post-natal recovery and injury rehab. Customers can try out as many trainers as they wish until they find one they like, and in what might be a first for the health club industry, FYT users don't need to be a member of the gym to work out with its trainers.
"We started FYT because we are big believers in the value of personal trainers in an increasingly health-conscious world. But while we are fans of personal training, we know that a lot more people would try it if the process of buying and scheduling personal training wasn't so outdated and difficult. Companies like Open Table, Travelocity, ZocDoc and Seamless have proven that the experience can and should be frictionless and affordable," said David Hung, CEO and co-founder of FYT.
The launch of FYT coincides with three major consumer trends:

Increasing interest in exercise and fitness as consumers look to lead healthier lifestyles. Personal training is a $9 billion per year industry with over 230,000 trainers
Countless e-commerce sites have shown that consumers increasingly favor using technology over human interaction when it comes to researching and purchasing products and services
Companies like Gilt, Fab and Priceline have proven the strong consumer demand for getting a deal, coupled with a desire by businesses to monetize their excess inventory
FYT's easy-to-use online platform capitalizes on all three trends to deliver value to consumers, trainers and gyms alike.
FYT is for people who have thought about getting a personal trainer to help them achieve their fitness goals but never made the plunge, and for people who have trained in the past but need more flexibility with their schedules and wallets. Instead of having to buy an expensive multi-pack, FYT lets customers book individual training sessions with trainers at top gyms and studios all across New York. Since FYT helps trainers fill what would otherwise be downtime, customers are able to save up to 40% off regular prices, which are rarely less than $100 per session.
By booking new sessions, trainers are able to build their client base and significantly increase their income. Since only about five percent of gym members currently use a trainer, FYT also provides gyms a new and more effective channel through which to sell personal training to existing members. Not only does this drive incremental revenues, it also improves member satisfaction and reduces turnover. And by allowing non-members to book sessions and train at their gyms, FYT is a great source for highly-qualified new member leads.
About FYT
FYT (Find Your Trainer) is a NYC-based startup that makes booking a personal training session as easy as reserving a table. FYT works with leading health clubs and training studios to allow users to research personal trainers and book sessions online at significantly discounted prices, while making gyms and trainers more efficient and profitable. For more information, or to find a personal trainer in your area, please visit http://www.getfyt.com.