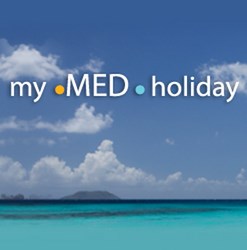 Well-known medical tourism destination Thailand has chosen MyMEDHoliday.com to get the word out about its beauty and wellness promotions.
Thailand (PRWEB) September 10, 2013
Thailand has invited people from all over the world to rediscover their fabulous self during the country's "FindYourFabulous" campaign, and medical tourism portal MyMEDHoliday.com has been named its exclusive media partner. Travelers can enjoy exclusive discount offers on Thailand's most popular health and wellness tourism products including cosmetic surgery, aesthetic beauty and anti-aging treatments, dental, spa and hotel packages.
Accounting for over 40 percent of Asia's medical tourism market, Thailand hosts millions of travelers each year seeking healthcare and medical treatment. "Thailand treated more than 2.5 million international patients in 2012, making it the most popular medical tourism destination in the world," said MyMEDHoliday.com Corporate Representative Derek van Pelt. "MyMEDHoliday.com is thrilled to partner with the Tourism Authority of Thailand and to exclusively promote the FindYourFabulous campaign and Thailand's medical and wellness tourism."
Thailand's FindYourFabulous campaign offers more than 150 deals in medical, spa and hotel promotions from more than 70 different providers. Health and beauty-conscious travelers will have the opportunity to enjoy discounts up to 75 percent off retail prices with leading health and beauty providers. Several skin treatment providers, for example, Apex Profound Beauty, and Yanhee hospital, are offering up to 50 percent off their services. Oasis Spa is offering a 50 percent discount on spa treatments. Bangkok Hospital Phuket is offering 45 percent off its medical checkup package. Travelers can book their FindYourFabulous trip now through October 31 with no prepayment required at http://www.FindYourFabulousThailand.com and enjoy their trip through the end of 2013.
Thailand has long been recognized as a high-quality medical tourism destination, offering the friendly hospitality of Thai culture as well as accredited medical facilities that provide a variety of treatments from cosmetic surgery and dental work to cardiology – and all at as little as one-tenth of the price as compared to hospitals in the United States or United Kingdom. Equipped with the latest technology as well as language translators and exclusive international wings catering to foreign patients, Thai medical facilities offer world class medical care.
Thailand also offers tourist destinations where patients can relax while they recuperate. With diverse attractions and delicious Thai cuisine, patients recuperating from medical procedures can enjoy beautiful scenery and tourist destinations as well as first-class hotels. "Thailand has so much to offer as both a medical and a tourist destination," said van Pelt. "We believe that the FindYourFabulous campaign does a good job representing Thailand and its ever-growing medical tourism industry to the world."
About The Company:
myMEDholiday.com is a comprehensive Medical Tourism portal and ratings site with offices in San Francisco, CA and Bangkok, Thailand. They provide direct access to detailed information about top medical and healthcare facilities around the world, giving patients the tools to locate, compare and contact medical travel or medical tourism providers quickly and conveniently. Their management team has over 15 years of experience with online travel and internet marketing, and has implemented a wide range of successful websites and e-marketing campaigns, and their aim is to work on behalf of patients and give them the information needed to make the right choices, while helping them find a safe, effective and cost-saving alternative for their health and medical needs.
To learn more visit - http://www.mymedholiday.com/.