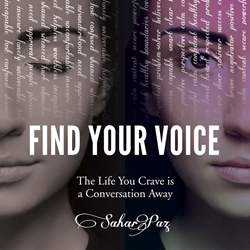 It's clear on every page that Sahar wants to fill the world with sheroes.
Houston, Texas (PRWEB) March 21, 2015
Speaker, Change Master and Yogi, Sahar Paz (http://www.saharpaz.com) releases her first book today on Nowruz, Persian New Year, to mark a new beginning, for her and for the women she works to empower. In Find Your Voice: The Life You Crave is a Conversation Away, Sahar's personal journey to overcome her own war of words within provides readers a backdrop to find their own powerful inner voice.
As part of her initial book launch, Sahar will host a virtual book reading online at 9 a.m. PST/12 p.m. EST, March 21st on Spreecast. Find Your Voice is currently available for pre-order on Amazon, with full global release for the print and e-book scheduled for April 17.
"In Find Your Voice, I share with you the stories that took and brought back my voice," said Sahar. "It's also a reflective guide for you to peel back the layers to listen and understand your own inner voice and create the life you deserve."
Though her family left the bombing and oppression of Iran in 1986, the prejudice and shame continued in the 'land of the free', from her own family, from her new country and from her peers who labeled her bomb keeper and terrorist at the young age of nine.
"I'm honoring the many tones of my authentic voice by releasing my first book on Norooz, Persian New Year," Sahar added. "It's also the first day of Spring which embodies the blossoming I've been afforded here in the United States."
Already an accomplished speaker and life coach, Sahar has received early praise for her first book, published by BBL Publishing, an independent publishing division of Build.Buzz.Launch. Media & Publishing which specializes in the Health, Wellness and Spirituality genres.
Sarah Moshman, Emmy Award winning documentary filmmaker, said, "She offers every woman the tools to tap into her own power and find her voice. It's clear on every page that Sahar wants to fill the world with sheroes."
Sahar will begin a speaking and book tour on April 14 in San Diego (Oceanside) CA, followed by the Los Angeles Festival of Books on April 18 and Denver, April 25th at Fashion Denver, May 2nd at Houston Yoga & Ayurvedic Center, Cypress, Texas and May 16 at Write Space Houston. For a complete schedule of tour dates visit saharpaz.com