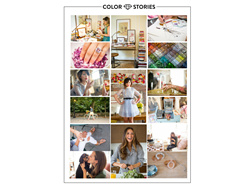 "When I put on jewelry, I feel more confident," says Arielle. "Shades of deep blue have always stood out to me, even in childhood memories. My mother has this sapphire ring. It's one of my favorite pieces. It's just mesmerizing."
Boston, MA (PRWEB) August 26, 2014
Gemvara (http://www.gemvara.com), the most trusted North American provider of customizable fine gemstone jewelry online, announces the launch of their Color Stories campaign. The campaign features three color muses, a fashionista, an artist, and a stylist, who tell their color stories, what inspires them and the meaning behind the jewelry they wear. Each multifaceted woman has created their own Gemvara collection expressing their personal styles and inspiring others to embrace color.
The first muse introduced is the fashionista, Arielle Nachmani, the brains and beauty behind the trendsetting fashion blog, Something Navy. She is trendy, feminine, flirty, with a hint of high fashion. Arielle tells her personal story of the meaning behind the color navy, shares her effortlessly elegant looks, and the power of color in her life.
"When I put on jewelry, I feel more confident," says Arielle. "Shades of deep blue have always stood out to me, even in childhood memories. My mother has this sapphire ring. It's one of my favorite pieces. It's just mesmerizing."
"Everyday customers share with us their personal stories behind the jewelry they created on Gemvara.com. It inspires us and we wanted to ignite that inspiration by partnering with fashion leaders that have colorful life stories behind their looks," said Gemvara Chief Marketing Officer Matt Marcus. "Our three color muses have very different styles, but they all share a passion for color and wearing jewelry that has meaning to them, choosing metals and gemstones that reflect who they are. We hope their stories resonate and awaken more color stories."
In September and October, the two remaining color muses will unveil their color stories. Katie Rodgers is the talented artist behind Paper Fashion. She is delicately glamorous, artistic, whimsical and experimental. Katie is an Atlanta-native who moved to New York City to complete her B.F.A at Carnegie Melon. She pursued a career in fashion before realizing her true passion for illustration. Paper Fashion was born as an outlet to share her fantastical, embellished watercolors with the world.
"I've always been a behind-the-scenes person. I've found a way to colorfully express myself through my art," said Katie. "I'm drawn to reds and pinks a lot. There is something fun and vibrant about those colors. My work tends to be a little softer, so I think the bold contrast is really nice with bold reds and bright pink."
Stylist Keiko Lynn will unveil her color stories in October. From beauty tips to DIY, Keiko lives a life inspired by color. She is quirky and energetic, with a retro-vintage style. Recently, Keiko started a fashion line with a collection of reconstructed pieces from her greatest thrift store finds.
"Style is very, very personal. One day I'm very 60's mod, the next day I'm 90's grunge, and the next I'm in jeans and a t-shirt, it's just an extension of the way I'm feeling," says Keiko. "I'm constantly creating and looking for inspiration. I usually pick out the first thing that catches my eye and make an outfit around that one piece. I love a splash of color."
About Gemvara
Gemvara is the revolutionary leader of fine jewelry shopping online. Jewelry lovers and gift givers now have access to 29 different gemstones, 9 precious metals, and hundreds of styles to create a one-of-a-kind piece that captures their personal story or unique inspiration. Every piece of heirloom-quality jewelry is skillfully handcrafted to order in New York. With 24/7 customer care, a 101-day return policy, free shipping, free engraving, and free ring sizing, shopping and creating is simple and fun. Gemvara combines the values of traditional jewelry creation with modern technology to truly provide shoppers with fine jewelry exactly the way they want it, always. Gemvara is headquartered at One Financial Center, Boston, MA 02111 and has offices in New York City.