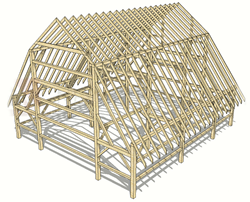 The Finger Lakes Museum Creekside Center will be a very special raising as we will re-raise and re-join an original antique barn timber frame
Farmington, NY (PRWEB) July 15, 2015
New Energy Works Timberframers invites the public to join their timber frame raising of the Finger Lakes Museum & Aquarium's Creekside Center in Branchport, New York Wednesday and Thursday, July 15th/16th 2015. Timber frame post and beam raisings offer a chance to witness the culmination of months of planning, designing, and traditional craftsmanship.
"Raising a timber frame is an important and exciting event – it is an age-old craft where the bones of the project come together," explains Eric Fraser, Timber Frame Division Manager at New Energy Works. "The Finger Lakes Museum & Aquarium's Creekside Center will be a very special raising as we refurbished a reclaimed barn frame and will re-raise and re-join the original antique timbers."
Part of the larger Finger Lakes Museum & Aquarium, this project started with the reclamation of an existing barn in Wisconsin. New Energy Works timber framers meticulously refurbished the frame and its joinery, cutting new mortise and tenons and adding a few rafters only as necessary. They will re-raise the antique timbers in Branchport, NY where the new-old barn will serve as the Creekside Center, a kayak and canoe livery. The Center will allow Museum & Aquarium staff to lead educational tours focusing on the Finger Lakes diverse wetland wildlife. Visitors to the raising will also have a chance to meet the FLM&A staff and volunteers, and enter to win a prize from Heron Hill Winery.
"The FLM&A's Board of Trustees is excited about the prospect of turning a 19th century agricultural barn, which was donated to the project, into the museum's Creekside Center – a kayak and canoe livery that will enable visitors to enjoy a wetland wildlife experience from a waters-eye perspective. I would also like to express our gratitude to New Energy Works Timberframers for helping us to bring this part of the project to fruition," says John Adamski, FLM&A Founder and Trustee.
New Energy Works has seen a marked increase in the use of reclaimed timbers in both residential and commercial timber frame design. Several projects around upstate New York have incorporated reclaimed timbers, bringing additional texture and aesthetic to their spaces.
"Reclaimed wood is a top choice for timber frame projects as it is inherently more stable than fresh cut wood. In addition, the unique history and character in reclaimed timbers is unmatched and clients particularly enjoy the story of their frame," explains Fraser. In the majority of projects the antique timbers used by New Energy Works Timberframers are salvaged by their sister company, Pioneer Millworks, from industrial and agricultural structures that have outlived their use and are slated for deconstruction.
Timber framing is a traditional form of building structures of heavy timber jointed together with pegged mortise and tenon joints – no nails. The craft is sought after not only for its aesthetic, but for the longevity and efficiency it provides over more common structures. Whether you're planning a home, designing for a business, curious about the use of timber as structure, or interested in heavy timber as a sustainable construction method, this is an event worth seeing.
New Energy Works Timberframers have been designing and building environmentally responsible timber frames across the USA for more than 30 years from their facilities in New York and Oregon. Offerings include: Timber Framing (design, engineering, manufacturing, build), Enclosure Systems, Fine Woodworking, and Recycled and Sustainable wood products. New Energy Works has two LEED AP staff members, is a member of the US Green Building Council, and is FSC Certified.