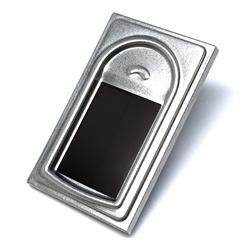 The new NEXT NB-1011-S fingerprint sensor module matches the module dimensions of existing high-cost solutions. This allows fast and cost efficient implementation of our module in already existing market devices."
Oslo, Norway (PRWEB) March 13, 2015
NEXT Biometrics Group ASA (OAX: NEXT) today announced the launch of its NB-1011-S fingerprint area sensor module, a high quality serial interface sensor module targeting markets for physical access control, time and attendance, portable hard drives, smart card readers, safety boxes, voting machines and more.
NEXT Biometrics, online at http://www.NextBiometrics.com, said, "Offering significantly larger active sensing area at dramatically lower pricing and in a total module-size identical to competition, NEXT now targets to further speed up replacements of existing solutions in most of the traditional market segments."
NEXT Biometrics CEO Tore Etholm-Idsøe said, "We have now shrunk the total module size of our 12x17 millimeter-sized sensor. The new NEXT NB-1011-S module matches the module dimensions of existing high-cost solutions. This allows fast and cost efficient implementation of our module in already existing market devices."
Etholm-Idsøe added, "Furthermore, the new NEXT Biometrics NB-1011-S fingerprint area sensor module offers 201-square-millimeter active sensing area, compared with less than 150 square millimeters for the relevant competitors, giving the NEXT sensor significantly better overall performance."
The NEXT CEO commented, "NEXT Biometrics is the first supplier being able to combine a proven and robust large fingerprint sensor area with a low price. Our sensor is tolerant against dirty, damaged, wet and cold fingers, and offers by far the best value for money in today's fingerprint sensor market."
ABOUT NEXT BIOMETRICS:
Enabled by its patented NEXT Active Thermal™ principle, NEXT Biometrics offers high quality area fingerprint sensors at a fraction of the prices of comparable competitors. A wide range of product formats including Smartphones, Tablets, PC's, Doors, Time registration systems, Wearables, Payment terminals, Flashdrives, USB-tokens, Key fobs and many more are targeted. NEXT BIOMETRICS GROUP ASA is a publicly listed company headquartered in Oslo, Norway, with sales, support and development subsidiaries in Seattle, Taipei, Prague and Shanghai. Contacts: Tore Etholm-Idsøe, CEO, Tore.Idsoe (at) NEXTbiometrics.com and Knut Stalen, CFO, Knut.Stalen (at) NEXTbiometrics.com.