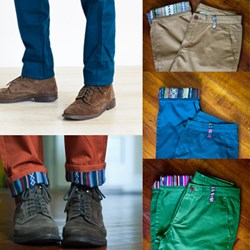 We've added an element of our own that makes this trouser absolutely one of a kind.
Birmingham, AL (PRWEB) November 14, 2013
Finn Apparel, a new clothing startup based in Birmingham, Alabama, has designed a line of apparel that has the Internet buzzing. Previously, the company's crowdfunding campaign was selected by Kickstarter as one of its "project of the day." That's when word of the campaign really began to spread. Currently the project has generated over $30,000 in funding and has surpassed the original goal by over 200%.
Finn believes that the campaign's success and Kickstarter's reason for choosing the campaign as "project of the day" is primarily due to the uniqueness of Finn Apparel product offerings. Finn's flagship item is known as the "Finn Cuffed Chino." Finn's cuffed chinos are distinguished from other chinos, in that they incorporate a unique custom fabric hem on the inside of the pant. A simple roll of the cuff gives you the ability to transition from an everyday classic to a one of a kind contemporary trouser.
"The Finn Hem Trouser is the perfect fit, feel, and style that every fashion forward male has been looking for, but it's even more than that. We've added an element of our own that makes this trouser absolutely one of a kind. Our trouser is a timeless piece where vintage meets modern. Built around a slim straight fit with the perfect rise; not too skinny, not too loose with an unmatched comfort in the perfect cotton twill. We've spared no expense in the quality, detail, and design precision that go into this trouser. It's a true portrait of excellence. Every trouser is consistent in quality and detail. We've sourced some of the finest fabrics from around the world, and the blend makes for one of the most comfortable pair of pants you will ever wear," stated Dustin Vann, Cofounder of Finn Apparel.
The Line of Finn Apparel is currently available on Kickstarter until November 22nd with an estimated product delivery of December, making the company's clothing an excellent Christmas gift. The Finn Apparel product line ranges in price from $18 to $88 for individual items and from $110 to $375 for packaged "collections" of the company's products.
Visit the Finn Apparel Kickstarter Campaign:
http://www.kickstarter.com/projects/finnapparel/the-finn-hem-trouser
About the Companies:
Finn Apparel embraces all-things digital, humanitarian, hip and forward-thinking and believes in leveraging the power of social media to discover and foster progressive ideas that help change the world—even if by one, strategic thread at a time. Shop Finn Apparel to "Find What You Look For."
Universal Media Consultants is an advertising and marketing agency that provides crowdfunding promotion. Philip Cardwell, the company's Founder, is highly active in the crowdfunding space and is providing advertising and marketing services to a wide range of crowdfunding projects at no initial costs to the client.
IndieFund.it is a boutique creative agency providing crowdfunding campaign management services as well as assisting crowdfunders in the development and delivery of a well-founded campaign model.