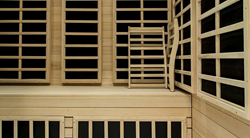 Mark Raisanen - "The Rento accessories are to sauna what a beautiful watch is to a suit. They serve a functional purpose, and they also pull the look and feel of the room together to make it a pure joy to use."
Cokato, MN (PRWEB) October 30, 2015
Finnleo (Booth 2850) will be introducing new traditional and infrared sauna products at the International Pool | Spa | Patio Expo in Las Vegas, November 10-12, inside the Mandalay Bay Convention Center. With many new additions to the 2015 lineup and the new products being shown for 2016, Finnleo has maintained its leadership position in sauna design and innovation.
For traditional sauna, the heart and soul of the experience comes from the heater. At the booth, attendees will be able to see new heaters and controls that not only increase bathing pleasure and heater performance, the design of the heaters allow for more options in the design and layout of saunas. The corresponding controls also offer greater flexibility and control over the functions of the sauna, from adjusting time and temperature to programming and other features.
Infrared saunas, especially those featuring low EMR / EF emitters, have been primarily pre-fabricated, standard size panel-built rooms. In 2016, Finnleo takes a leap forward with a totally custom option for infrared. The Finnleo Custom Infrared, an industry first, provides the therapeutic benefits of Finnleo's proprietary Low EMR / EF infrared emitters, but incorporated into a custom made sauna built to fit the end user's design requirement. The Custom IR packages can be incorporated into a custom modular sauna or into a custom pre-framed space.
To enhance the traditional sauna bathing experience, Finnleo has partnered with Rento to provide a beautiful array of sauna accessories, from buckets and ladles to gauges, fragrances, and linens. Mark Raisanen, National Sales Manager for Finnleo, said:
"The Rento accessories are to sauna what a beautiful watch is to a suit. They serve a functional purpose, and they also pull the look and feel of the room together to make it a pure joy to use."
To learn more about Finnleo, visit them at Booth 2850 at the International Pool | Spa | Patio Expo, visit a local dealer, call 800-346-6536, or go to http://www.finnleo.com.