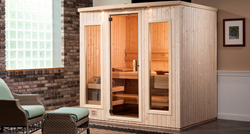 The Finnleo Sisu sauna has been our most popular model for decades. Our design team saw an opportunity to improve functionality while keeping the design elements that have made the Sisu a favorite. - Keith Raisanen
Cokato, MN (PRWEB) June 22, 2014
Finnleo's Sisu Sauna, the sauna industry's number one selling panel-built traditional sauna for 30 years, has the iconic sauna design which most people envision when thinking of a home sauna. The design is simple Scandinavian elegance at its best, and now it is even better with the addition of a few new features made possible by advancements in technology since the Sisu's inception.
The basic structure of the room remains nearly the same, with the only additions to the exterior being an overhang with integral exterior puck lighting and more expansive use of glass. The exterior lighting both highlights the beauty of the sauna while providing functional light for operating the control or getting ready to use the sauna.
On the interior, the changes to design are subtle, but the improved features and functionality are clearly noticeable. In place of the standard brushed aluminum wall sconce are ceiling mounted, low-voltage puck lights with chromatherapy, allowing the bather to choose the lighting based on his desired mood from bright white light for reading to softer colored light for quiet reflection or conversation. For added comfort and enhanced aesthetics, bench design has been updated to include new combinations of wood types, optional bench platforms instead of a traditional lower bench and bullnose front on all benches. The beautiful rounded front edge eases the lines of the room while providing more comfortable seating.
The original Sisu sauna was manufactured of traditional Scandinavian white woods: Nordic White Spruce tongue and groove interior and exterior walls combined with clear Abachi benches and backrests. Today's updated Sisu includes additional wood options: clear Canadian Hemlock T&G combined with Abachi benches as well as clear Western Red Cedar T&G combined with Western Red Cedar benches.
Finally, the heart and soul of the Sisu has been upgraded as well. The heater now features digital controls rather than the traditional mechanical controls. The benefits of digital controls are numerous, including greater control of the environment by setting precise temperatures, greater control of timer functions (including delayed start), and ease of installation and maintenance.
Keith Raisanen, president of Finnleo, said:
"The Finnleo Sisu sauna has been our most popular model for decades. Like most 'classics,' there have been few requests for any changes; however, our design team saw an opportunity to improve functionality while keeping the design elements that have made the Sisu a favorite. The initial response has been outstanding."
For more information on the updated Sisu Sauna or to learn more about Finnleo, visit http://www.finnleo.com, call 1-800-346-6536, or visit a local Finnleo dealer.