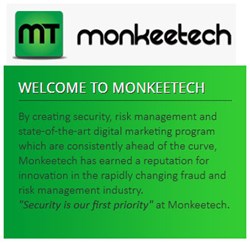 Taken as a whole, the EyeWatch System has the potential to seriously curtail bank and credit card fraud and we are very excited over the initial reception we have received. - Jeffery N. Dinardo Jr. CEO, Monkeetech LLC
West Babylon, NY (PRWEB) September 04, 2013
"Monkeetech, LLC is rapidly moving to convert the provisional patents obtained for its patent pending 'EyeWatch' System to full non-provisional utility patents," announced Jeffrey N. Dinardo, Jr. CEO of Monkeetech.
"Our 'EyeWatch' System utilizes iris scan technology to identify and authenticate users in point-of-sale, mobile, and internet payment transactions. We are also developing platforms for use in ATM and bank wire transfer transactions," stated Mr. Dinardo. "Taken as a whole, the EyeWatch System has the potential to seriously curtail bank and credit card fraud and we are very excited over the initial reception we have received."
Monkeetech is now moving to convert the provisional patent status of their EyeWatch System to a full non-provisional utility patent and anticipates the completion of the filing with the USPTO within the next few weeks. "We know now that the EyeWatch system works across the full platform of transactions and so conversion to a non-provisional patent is the next logical step for Monkeetech," comments Kenneth Carnesi, a Director and Chief Adviser to Monkeetech, LLC.
Monkeetech will be attending the Finovate Fall Conference in New York City on September 10 & 11th, 2013 and will be available to answer questions concerning the EyeWatch System and the future of Monkeetech, LLC. For more information, please visit http://Monkeetech.com.