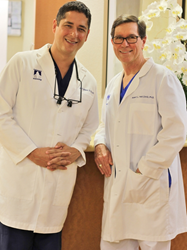 The most frequent cause of advanced periodontal disease is undiagnosed or untreated early disease.
West Palm Beach, FL (PRWEB) October 20, 2015
Half of Americans over the age of thirty and 70% of those over 65 have periodontal disease, a chronic, inflammatory condition that affects the gum tissue and bones that support the teeth (https://www.perio.org/consumer/cdc-study.htm). Periodontal disease ranks with cardiovascular disease and diabetes as one of the most common, chronic diseases affecting Americans. "Periodontal disease is insidious," says Dr. Robert Holt of the Florida Institute for Periodontics & Dental Implants. "Many people suffer no discomfort in the early stages or ignore the red, swollen gums and bleeding that signal a problem. By the time they seek treatment, they often have advanced disease with bone loss so severe and teeth so loose that the teeth cannot be saved."
Dr. Holt's colleague, Dr. Mauricio Gutierrez, points out that the most frequent cause of advanced periodontal disease is undiagnosed or untreated early disease. "Patients often avoid periodontal treatment even when referred by their general dentist," he says. "They are apprehensive about treatment, which has traditionally involved surgery and sutures as well as unpleasant side effects. Now, using a specialized laser, we can offer a less invasive solution that eliminates the need for cutting and suturing. Patients suffer less discomfort, heal faster, and have fewer lasting side effects."
Periodontal disease starts with plaque, an opaque, sticky film that coats the teeth and harbors the bacteria that live in our mouths. If not removed by brushing and flossing, plaque hardens, forming tartar or calculus and the bacteria infect the gums causing them to become red and swollen and bleed easily. This is a mild form of gum disease that can usually be controlled with effective dental hygiene and periodic professional cleaning. If untreated in the early stages, however, the teeth will pull away from the gums forming spaces, or pockets, which become infected. Eventually, the bone and connective tissue that hold the teeth in place break down and the teeth become loosened, often to the point where they have to be extracted.
Treating periodontal disease focuses on cleaning up the infection and closing the pockets. In early stages, this can be done by scaling and root planing, which removes tartar and plaque from the root surfaces of the tooth below the gum line. When advanced disease is present, a periodontist surgically separates the gums from the underlying bone to thoroughly remove toxins from the root. This sometimes involves cutting away gum tissue and re-contouring the bone. Dr. Holt notes that gum surgery is effective at eliminating pockets but that it comes with side effects such as post-operative discomfort, gum recession, and long-lasting tooth sensitivity to hot and cold. He says: "Offering our patients a non-surgical laser-based alternative removes the primary obstacle to treatment by alleviating the anxiety that keeps many people from taking the necessary steps to preserve the heath of their teeth and gums."
The laser-assisted new attachment procedure (LANAP®) is an FDA-approved protocol that has revolutionized the treatment of periodontal disease. It works by selectively removing the diseased tissue that lines the periodontal pocket, killing the bacteria that inhabit it, and removing bacterial toxin from the root surface. The laser device, the PerioLase MVP-7, was developed specifically for treating the gums. Because healthy and diseased tissue have different optical characteristics, the laser is calibrated to leave the healthy tissue intact. Once the diseased pocket lining has been removed and the pocket and root surface disinfected, the laser is used at a different setting to form a blood clot inside the pocket that acts as a sealant and allows a new healthy attachment to form between root and gum.
"The benefits of the laser procedure over traditional surgery are significant," says Dr. Gutierrez. "The procedure takes less time and is minimally invasive so the body recovers and heals more quickly; most patients can resume regular activities immediately. By removing only damaged tissue, we reduce or eliminate gum recession and maintain the aesthetic appearance of the smile. And we can often save teeth that would have been lost. Most important, we can reduce patient resistance and treat them before they suffer the consequences of advanced disease."
LANAP is a registered service mark and Periolase is a registered trademark of Millennium Dental Technologies, Inc., Cerritos CA 90703
Mauricio Gutierrez, D.M.D., specializes in dental implants, soft tissue grafting, and periodontal tissue regeneration
Robert L. Holt, D.M.D., manages patients with complex periodontal-implant-prosthetic problems, specializing in bone and tissue regeneration, periodontal-prosthetics, esthetics, and dental implantology.
Florida Institute for Periodontics & Dental Implants specializes in periodontics and dental implant surgery, including emergency treatment, comprehensive examinations, second opinions, non-surgical treatment of gum infections and the full range of periodontal surgical services.