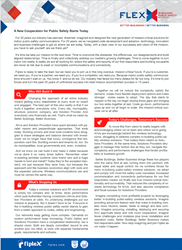 It's time we take our mission to the next level
MIAMI (PRWEB) June 22, 2020
Fiplex Communications, a venerable leader in true mission-critical solutions for indoor public-safety communications, has published a call to action to inspire a renewed industry-wide commitment for achieving emergency first responder communications whenever and wherever needed. Authored by Matias de Goycoechea, Chief Technology Officer and Chairman of the Board, at Fiplex, A Call to Action: Better Buildings, Better Business urges the public-safety ecosystem to exponentially expand and accelerate the deployment of in-building public-safety communications networks by focusing innovation and technology that overcomes the underlying challenges of all stakeholders.
Communications plays an integral role in helping firefighters, law enforcement and emergency medical services (EMS) personnel fulfill the mission of Public Safety to protect lives, maintain order and safeguard property. Because the majority of public-safety incidents occur indoors, it is paramount that the wireless devices used by emergency first responders work reliably throughout all areas of buildings and venues including garages, basements and stairwells. Fire Codes have developed a clear standard for these applications and, although, code adoption continues at a notable pace, momentum continues to languish amid increasing radio frequency (RF) complexity, higher performance requirements and economic pressures. While admirably managed by AHJs and Solution Providers, these challenges continue to delay the full success of the Public Safety mission.
"Over the past 20 years, Public Safety has striven to keep our first responders effective and safe through the intentional adoption of codes requiring critical communications coverage indoors," said Chief Tom Jenkins, Rogers (Ark.) Fire Department and past president and chairman of the board of the International Association of Fire Chiefs (IAFC). "Thanks to these efforts, many buildings have been addressed and lives have been saved. However, there remain many buildings in which first responders are at risk because they are unable to communicate. Both the public safety and the solutions provider ecosystems must continue to rise to the challenge and reevaluate how to ensure indoor communications whenever and wherever needed."
The manifesto advocates for a renewed and realigned commitment that goes beyond the legacy of keeping first responders safe. It is a call to action on two symbiotic outcomes for AHJs and Solutions Providers, respectively: better buildings and better business.
"The goals and drivers of public safety and solutions providers are often in conflict," said Earl Lum, president, at EJL Wireless Research. "Stringent critical communications requirements established by AHJs for better and safer buildings tend to expose solution vulnerabilities and increase complexity which, in turn, have an adverse economic impact on solutions providers. An absence of compelling and repeatable business drivers spawns a vicious circle which jeopardizes widescale assurance of public-safety communications indoors."
The manifesto calls for Solutions Providers to innovate to deliver mission-critical performance, mitigate complexity and foster economic models.
"Better buildings cannot be achieved without better business opportunities for Solutions Providers," said Fiplex's de Goycoechea. "Countless millions have been invested on education, training, code creation and adoption. But to fully realize the vision, a renewed commitment is in order – one that focuses on innovation to lower complexity and cost and deliver true mission-critical performance. We are calling upon our partners and competitors to join us in embracing this mindshift to help keep our first responders effective and safe in more buildings."
"Our motivation for publishing the this call to action is guided by the proverb, 'If you want to go quickly, go alone; if you want to go far, go together,'" said Ron Pitcock, Chief Executive Officer, at Fiplex. "As a market leader, we invite a virtuous marketplace to solve for the greater good of Public Safety."
Download A Call to Action: Better Buildings, Better Business Manifesto here: http://www.fiplex.com/download/Fiplex-manifesto.pdf
About Fiplex Communications, Inc.
For over 30 years, Fiplex has been a leader in mission-critical solutions for indoor public-safety communications. The company's innovative and quality portfolio of BDA (bi-directional amplifier) and Fiber DAS (distributed antenna system) solutions deliver proven code-compliant performance and mitigate the complexity of designing, installing and managing wireless networks. With products successfully deployed in buildings and venues – including some of the busiest transit systems – within nearly 30 countries, Fiplex meets Public Safety's mission to ensure critical communications whenever and wherever needed, and is a valued and trusted partner of the wireless ecosystem.