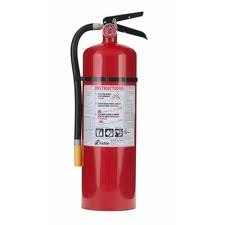 In the event that using a fire extinguisher is necessary it is important that a homeowner knows how to use it effectively and safely.
San Diego, California (PRWEB) December 12, 2013
A fire extinguisher isn't an option, in the mind of most home security and safety professionals—it's a necessity. Many people don't have an extinguisher in their homes, despite its ability to save lives. Even with the presence of the best home alarm system that includes smoke detection, it's still imperative to have an on-site fire extinguisher, and in some cases, more than one.
The professionals at AlarmSystemReport.com, a site that reviews home alarm system companies and provides information of top companies including FrontPoint security reviews, has created a list of tips to help select an extinguisher.
1. The first step to equipping a home with extinguishers is to decide which rooms will have one. It's recommended that there's at least one on every floor of a home, and in particular they should be located in the kitchen and the garage.
2. Learn the classes of fire extinguishers. Class A models are designed to put out ordinary combustibles, including wood and paper. Class B options are for use on flammable liquids, including grease and oil. Class C extinguishers are for electrical fires, and Class Ds are for flammable metals.
3. The fire extinguisher should be easy to life by everyone in a household. If the fire extinguisher is too large to be used properly by family members, it's useless, even though it may have more power than a small model.
4. Certain weights are better for certain areas of a home. For example, a 10-pound extinguisher is probably best-suited to a garage, whereas a 5-pound extinguisher is probably a good size for the kitchen. There are also smaller options that can be used in the car, or can be easily mounted over a stove.
5. It's often best to choose an extinguisher that's rated to deal with several types of fires in one device.
6. Fire extinguishers should be mounted about 4-5 feet above the floor, and near a home's exit points.
7. The canister of a fire extinguisher should regularly be shaken in order to keep it maintained.
8. Only choose extinguishers that are approved by a national testing laboratory.
9. If an extinguisher is placed in a location where it's exposed to a lot of heat, it may become less effective.
10. Don't put extinguishers directly next to a place where a fire could begin, because it may be inaccessible.
About SecuritySystemReviews.com
From Wyoming security systems to Virginia security systems, SecuritySystemReviews.com has comprehensive information pertaining to the top home security companies throughout the country. The reviews provided on the site are independent, unbiased and obtained through a secret shopper format. The site also offers consumers access to valuable coupons and discount codes which can be used toward the purchase of a top-quality home security system.