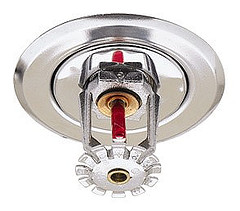 Homeowners can prevent major damage to their home and promote further safety of their family by installing a residential sprinkler system.
Indianapolis, Indiana (PRWEB) September 06, 2013
For most homeowners, the threat of a house fire occurring is a very serious concern, yet few homeowners take the proper precautions to protect themselves and their families from a fire. While a smoke alarm does help prevent the risk of a fire, when combined with a sprinkler system, a home's resident's chances of survival are increased by 82 percent if a fire does occur. This is an important consideration homeowners should keep in mind when installing a security system.
Many home security systems can be equipped to trigger sprinkler systems in the event of a fire, according to the security and safety professionals at SecuritySystemReviews.com. Security System Reviews is an information and review site, featuring reviews of the top home security systems in the country, including Protect America reviews and ADT reviews. The site created a list of guidelines for homeowners contemplating the installation of fire sprinklers.
1. Understand the difference between smoke alarms and sprinklers. A smoke alarm is simply designed to alert homeowners of a potential fire; it isn't designed to provide any protection or put a stop to the fire. A sprinkler is the best way to not only extinguish a fire, but also protect a home, its contents and its residents against further damage.
2. Sprinklers, unlike smoke alarms, are activated by the presence of heat, not smoke, so homeowners don't have to worry about everyday smoke from candles or cooking, setting off sprinklers.
3. Residential fire sprinklers are relatively easy to maintain, but homeowners should ensure that they aren't obscured by anything that could block the water from spraying, such as paint. Additionally, it's important to ensure that the main control valve is never turned off, or the sprinklers will be rendered useless. Sprinkler systems also require winterizing during cold weather months to prevent the pipes from freezing.
4. Consider installing fire sprinklers to reduce the amount paid for homeowners' insurance policy premiums. For homeowners that do install sprinklers, it's important to alert their insurance company, so that they can adjust the premium amount accordingly.
5. When planning for a sprinkler system, consider which rooms will likely be at the highest risk for a fire, such as the kitchen, or rooms with a fireplace. This will help save money, as opposed to installing sprinklers in every room of a home.
6. Work with a professional to not only determine the best location for sprinklers, but also to ensure that all local codes and regulations are met or exceeded with the installation of the system.
About SecuritySystemReviews.com
SecuritySystemReviews.com is a leading third-party provider of information about the home security industry and contracts for security systems. The site provides visitors with reviews for top security companies, as well as valuable coupons and discount codes.