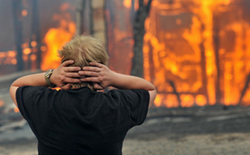 For every five deaths caused by fire, three of the deaths occur in homes that do not contain smoke detectors
Los Angeles, CA (PRWEB) January 01, 2015
The founders of Emergency Lights Co., an emergency lighting company that offers high quality products for both homes and businesses, have just posted a new article and infograph about home fire safety. The article and infograph offer helpful advice that can help homeowners determine if their home is safe from a fire, as well as how they can protect their home and their family.
The timing of the fire safety article and infograph could not be better; the founders of the company understand that more house fires typically occur during the holiday season than any other time of year. From Christmas trees that are placed too close to a fireplace and candles that are accidentally left unattended, there are a variety of reasons why home fires are more common during November to March.
As the infograph notes, fires do much more than destroy homes and their contents—they can also kill people. Unfortunately, every day around seven people in the United States die from a fire. While there are many possible causes for a house fire, the infographic shows that cooking equipment and kitchen-related reasons are the most common reasons.
In order to protect their homes from the devastating impact of a fire, people need to be as proactive as possible. For example, in addition to remembering to turn the stove off when it is not in use and keeping aprons away from heat sources in the kitchen, homeowners should make sure that they have working smoke detectors in the home.
"For every five deaths caused by fire, three of the deaths occur in homes that do not contain smoke detectors," the new article noted, adding that a person's chances of succumbing to burns and smoke inhalation are cut in half or even less when his or her home has a warning system in place.
Once they have installed the smoke detectors, homeowners must also properly maintain them. As the article notes, all smoke alarms should be tested every month and replaced every 10 years. Every sleeping room should contain a smoke alarm, and there should also be smoke alarms installed outside each separate sleeping area and on each level of the home, including the basement.
Anybody who would like to read the new article and infograph in their entirety may visit the Emergency Lights Co. website; there, they can also learn more about the company and their line of emergency lighting products.
About Emergency Lights Co.:
Emergency Lights Co. is an emergency lighting company that provides products for home fires and emergencies. They have been in business since 2011.