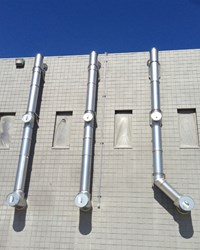 New York, NY (PRWEB) December 13, 2013
Master Fire Prevention Systems has announced it will now be providing a different type of stainless steel duct work.
Recent legislation in New York State has required a different type of stainless steel duct work with less maintenance, and less labor to install it. The new line of stainless steel duct work is UL-listed and ETL-listed, and New York Fire Department approved. Basically, UL and ETL are stamps of approval saying that the products that display them have met rigorous standards for electrical safety and electromagnetic emissions. Also, the UL- and ETL-approved ducts do not need to be welded. They can also both be painted to match building color. Due to less corrosion, this new type of work is very popular with landlords.
Master Fire provides single-wall duct work only, with diameters ranging from eight to 24 inches. Both the duct and the accessories are made from stainless steel. The multiple accessories available include 45 and 90 degree elbows, and tees.
Access doors are available for clean out, and transition plates are available for duct termination at the curb.
The entire duct system can be used as a stand-alone duct system and integrated into a kitchen application, and can also be used as part of a fully-integrated package designed and pre-engineered for optimum performance with kitchen ventilation equipment. Using a factory-built duct saves on installation costs.
"At Master Fire, we are proud to offer this new installation system as we stay on the forefront of professional duct work," said Peter Martinez, owner of Master Fire.
For more information about Master Fire Prevention Systems, or the new duct work, call 917-261-3710, or visit http://www.masterfirepreventionnyc.com/.
About the company:
Whether starting a new business or just in need of an inspection, an experienced fire suppression company will go far in preventing avoidable disasters. From fire extinguishers to complete fire suppression systems, Master Fire Systems has a full range of fire equipment and fire prevention services that are designed to help protect buildings, personnel and possessions.
Offering fire prevention equipment in New York, NY since 1969, Master Fire Systems has more than 40 years of experience in providing fire extinguishers, duct cleanings, custom hoods for kitchen fire suppression systems, engineering services, installation of fire sprinkler systems, commercial exhaust ventilation, and even the installation and maintenance of water-based fire sprinkler systems. Featuring upkeep and retrofitting of current fire suppression systems, Master Fire Systems are proud Ansul Inc. and Kidde Fire Systems distributors. For more information on the fire suppression products and kitchen solutions offered by Master Fire Systems, please visit their website at http://www.MasterFirePreventionNYC.com.