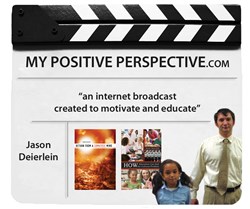 We are taking steps to make sure this tragedy never happens again.
Charleston, SC (PRWEB) January 14, 2014
On January 13, 2014, My Positive Perspective host Jason Deierlein was joined by Charleston fire fighter David Griffin for an episode recorded to remember and honor the lives of those lost in the June 2007 mattress store fire. Griffin drove the first fire truck into the burning building and witnessed the tragedy unfold. Griffin published a book which documented the results of his studies of how to prevent this tragedy from ever occurring again.
Deierlein's first question to Griffin was, "How did you slow your thought process down enough to realize that this tragedy was something you could turn into something that could benefit other fire fighters?" Griffin replied, "It took some time after the fire, I was looking for ways to self medicate and searching for ways I could make myself feel better and I turned to mixed martial arts fighting. I realized one day after a fight that this wasn't the way I wanted to honor those guys lost in the fire. I knew there was something beneficial and meaningful that I could do for the fire service, so I did some research on the tragedy."
Deierlein then asks Griffin, "Whenever one goes through a tragic event they gain knowledge and information that is unique and I assume you wanted to share that?" Griffin then replies, "Definitely, there is not a lot of first responders that witness a death in the line of service. I felt that was a unique case and I wanted to share that information and knowledge."
Griffin ended the episode saying, "If we can learn from this tragedy it will help the Charleston fire fighters to heal. We were lacking in equipment and training and we seek and continue to improve those areas and ensure that this doesn't happen again."
My Positive Perspective is a media outlet believing that improvement in our community will be best achieved by focusing on the good things happening in our world today. Having survived a near fatal car accident as a youth, a shift of perception forced one to have a mentality of always concentrating on the brighter sides of things. This was true, and in my book, Return From a Comatose Mind, this belief was put to the test. Appreciation for life was the biggest thing one took away from my brush with death, and it is because of that gives me such a huge desire to be helpful to many. My Positive Perspective is a way of overcoming challenges through positive thinking.