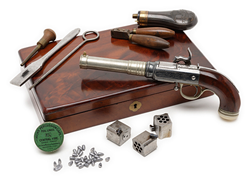 One of the finest collections of European Arms to come to the auction block in over a decade!
Cincinnati, Ohio (PRWEB) October 13, 2015
Two world-class collections will combine with additional top-quality and highly desirable material during one of the most-anticipated major firearms sales of 2015 when Cowan's Auctions conducts its Historic Firearms and Early Militaria auction on November 3-5.
Anchoring the event are the specialized collections of Ben Michel, who focused on French firearms, and Mel Flanagan, who assembled an intriguing array of European and American firearms, including numerous unusual weapons. View the items. HERE
The auction begins on Tuesday, Nov. 3, with the collection of Ben Michel, a retired New Jersey attorney, U.S. Army veteran and former special agent in charge of counterintelligence. He is also past president of the New Jersey Antique Weapons Association, as well as a judge at major gun shows in Richmond and Baltimore.
This is Michel's second auction of significant antique firearms. In 2007 his collection of Confederate weapons was sold by James D. Julia for more than $1 million. This time around the specialty is French military arms from the 1700s to the start of World War II. The catalog serves as a guide to these weapons throughout the years, as no comprehensive book has been published in English.
The French regulation arms are grouped into approximately 350 lots consisting of handguns, long arms, edged weapons, headgear and accessories. Prime examples include Model 1855 a general staff officer's double-barrel percussion pistol made at Saint-Etienne (estimated at $35,000 to $50,000).
The second day of the auction, Wednesday, Nov. 4, begins with the collection of Mel Flanagan, a World War II Navy veteran who served aboard the U.S.S. Douglas H. Fox, which saw action against the Japanese. Following the war, Flanagan worked in construction in his family's cement business. It was during this time he began collecting firearms, with special interest in the blunderbuss. He also sought alarm and trap guns, pepperboxes, sword and knife pistols, knuckle-dusters, derringers and a variety of oddities. His collection gained national attention when he was invited to join The American Society of Arms Collectors in 1996. He is also a former president of the Colorado Gun Collectors Association.
A glance at his collection quickly reveals one thing -- Flanagan specialized in the unusual.
Among the blunderbusses offered are a rare pair of English brass blunderbuss flintlock short rifles by J&W Richards, with spring bayonets, circa 1800 (est. $9,000 to $18,000); Madrid flintlock blunderbuss by Soto, circa 1744, having an engraved and silver-inlaid barrel (est. $7,500 to $15,000); Irish over/under, elliptical-barrel, percussion blunderbuss by Rigby, with a spring bayonet, circa 1823 ($7,500 to $15,000); early pair of English flintlock brass blunderbusses by N. Gregory, circa 1700 (est. $6,000 to $8,000); and a cased pair of brass blunderbuss pistols by Westley Richards of London, circa 1830 (est. $6,000 to $8,000).
ff officer's double-barrel percussion pistol made at Saint-Etienne (estimated at $35,000 to $50,000).
Handgun rarities include a French 25-shot Guycot chain pistol, a sliding cover concealing the chain of ammunition cups (est. $8,000 to $16,000), and a scarce seven-shot percussion turret pistol by C.B. Allen of Springfield, Mass., having engraved metal grips (est. $7,500 to $15,000).
For more information, phone Cowan's Auctions at (513) 871-1670 or visit Cowans.com.