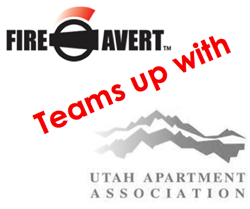 It struck me as a common sense way to prevent fire damage loss
Salt Lake City, UT (PRWEB) December 17, 2013
Ever since its invention, Fire Avert has been storming the nation, helping people in all walks of life to protect themselves from the number one cause of home fires and unattended kitchen fires. Fire Avert has recently expanded their retail presence by being sold now in various Home Appliance stores including Maytag Appliance repair shops. They've also set up a new affiliate program that allows them to reach further and spread the word to a larger amount of people than ever before. The latest expansion that they've been able to undergo follows along with their multi-unit discount.
Apartments, townhomes, hotels, and the like are some of the most vulnerable housing units to kitchen fires. In any regular home there is only a chance of one kitchen fire per unit to set the whole place up in flames. However, an apartment building with 16 units per building now has 16 times more chance for one resident to leave a kitchen stove unattended and put the rest of the building at risk.
That's why Fire Avert is now offering a multi-unit discount starting at just 10 units and increasing in the discount price from there. Recently Steven Randall, President of the Utah Apartment Association, has sent out a letter to all apartment complex owners and managers informing them of Fire Avert and letting them know of the discount. He explains Fire Avert's importance to them:
"Some of you may have had substantial losses from fires originating in kitchens at your complexes. When Fire Avert presented at the board of directors meeting for the Utah Apartment Association it struck me as pretty common sense way to prevent fire damage loss. It will also provide an added measure of safety for our residents at a pretty affordable cost. You may also receive a discount on your liability insurance for installing a fire prevention device, and can check with your agent to see if you qualify."
About Fire Avert
The Fire Avert is a revolutionary fire prevention device that can easily be installed in any home with an electric stove. Fire Avert disconnects power to a range or stove when triggered by the audible signal of an existing smoke detector. It's that simple.