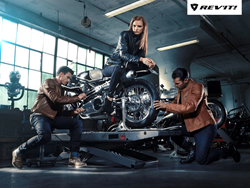 "We're delighted to be one of the largest UK REV'IT stockists; the new 2015 cordura jeans range is excellent!" - John Tempest (Firecrest Team Manager)
Glasgow, Scotland (PRWEB UK) 13 August 2014
REV'IT are at the cutting edge of motorcycle fashion, previewing their new range of technical motorcycle jeans at progressive store Firecrest Moto last week. Known for their fashion-forward style and innovative technical development, REV'IT consistently provide the very best in bike gear.
Founded in 1995, REV'IT have grown exponentially to become one of the most exciting manufacturers in the industry. Featuring on the world motor sport stage with their riders in MotoGP and World Superbikes, the company prides itself on the innovative nature of its research and development team, and being at the pulse of motorcycle technology.
REV'IT are the first mainstream motorcycle brand to really embrace the trend for causal urban protective motorcycle wear. Partnering with Firecrest Moto in Scotland, the new REV'IT collection brings motorcycle enthusiasts the right mix of street cool, urban edge and wearability. Clicks and mortar specialists Firecrest Motorcycle Outfitters are the largest REV'IT stockist in the northern half of the UK, and focus their instore collection on attractive and affordable leather and textile clothing.
Launching the brand new Autumn-Winter 2014 collection, REV'IT UK confirmed that the search for a decent pair of waterproof jeans had ended with the new REV'IT Memphis Jeans. The Memphis are equipped with a fully laminated 3L waterproof inner layer, a comfort liner for easy wear even in warm weather, and an evolved PWR aramid weave for extra tough anti-abrasive properties. These jeans not only look great, but are designed to take you through the seasons. Classic denim jeans fans will love also the straight leg dark blue REV'IT Philly and the stonewashed REV'IT Jersey, all styles are on pre-order status now at Firecrest Moto. Made from denim with a Cordura fibre weave, the REV'IT Philly and Jersey are designed to protect and impress.
Now one of the most popular European motorcycle brands in the United States and their home market, REV'IT are on to a sure fire winner with their exceptional Fall-Winter 2014 range.