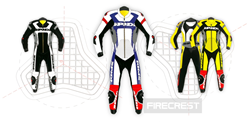 "I slide elbows so easily that Spidi had to develop a special project, a removable and interchangeable elbow slider that could give riders better feeling through the corners and additional safety" Aleix Espargaro
london, UK (PRWEB UK) 30 September 2014
Spidi is one of the Big Three Italian heritage motorcycle brands, famous since 1977, when the company began manufacturing exclusive race gloves for motorsport.
This year sees a new innovation in Spidi's Warrior Armor. You may be more familiar with seeing Warrior armour technology in Spidi's longstanding proven and trusted Warrior back protectors. However, this heritage brand is now using Warrior technology in brand new ways, utilising its abrasion resistance and force absorption qualities to protect rider shoulders, hips and elbows from impacts and potential injuries, on the outside!
The new, rumoured, Warrior Wind Pro Spidi one piece leather suit is set to feature all this new armour. An advancement over external hard armour used by other manufacturers, Spidi's Warrior Armor has increased flexibility and is ultra-light, despite being extremely tough. This lets the armour follow the contours of the human body, thus reducing fatigue and restriction on rider movement.
Further features of Warrior armour when used externally are increased impact absorption and hard surfacing sliding, both of which reduce impact injuries. Impact absorbing hard armour on the hips will be a Spidi first in motorcycle clothing, a new innovation for motorcycle safety and never seen before. This evolution brings protection to a higher level! The elbow armour will also be featuring an 'elbow slider', which may eventually be a standard feature like knee or toe sliders, developed from the ever extreme lean angles seen in MotoGP. External Warrior armour will also be seen in 2015 on a leather sports jacket, and two textile jackets (one waterproof).
This new development from Spidi's Safety Lab had its début on the MotoGP circuit, gracing the top Ducati rider and long standing Spidi rider Andrea Dovizioso. "Dovi", as he is affectionately known by his extensive fanbase, wasn't just testing the new Ducati 14.2 bike Aragon, Spain this month! Eagle eyes will have spied Andrea on track, testing the all new Spidi Warrior external armour in the most demanding of motorsports.
Continuing their successful partnership of three years, leading Spidi stockist Firecrest Motorcycle Outfitters, are showcasing the new 2015 Collection with an in-depth feature on the newly developed Warrior Technology Armor and flagship product, the Warrior Wind Pro Suit. Firecrest Moto will be previewing the new season range on their extensive site and blog RIDE+REV, highlighting essential new sport and leisure products.